Read Time: 3 minutes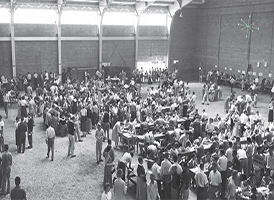 One use of the Smith Fieldhouse was for university registration, which was done by class level and alphabetically by last name. The system was used well into the 1970s. Sharon Zimmerman DePaula (Class of 1967) remembers as a freshman arriving at her assigned time at 4:00 p.m. and finding only one registrar still on duty. Sharon picked up discarded IBM registration cards that were covering the track and created her schedule according to the classes that were listed as still open. She recalled, "At one point the only classes left were in for-flung areas of campus with only 10 minutes to get from the old Page School (where the football stadium now stands) to the Women's Gym on lower campus. No car. No bike. Just howling wind and snow." It provided for some fascinating semesters.
"I married my high school sweetheart, Dallin Gordner, at the beginning of my sophomore year, but I still went on to school because my husband was coiled on a mission in New Zealand. (Yes, they were calling married young men on missions back then!) I graduated in the summer of 1955 and taught third grade at Ashman Elementary in Richfield, Utah, for a year before my husband came home. We then returned to BYU and were head residents in Heritage Halls for two years. Our first daughter, Lori, was born while we were there. We had five more children. My education experience proved helpful when I taught first grade at South Elementary in Cedar City, Utah, and Salk Elementary in Mesa, Arizona. Thanks for all you did! I was an effective, creative teacher because of the BYU College of Education."
—Beverly Scott, Class of 1955
"I was a student at BYU in the 1950s, and whitewashing the block Y was a yearly event. Students would pass buckets of whitewash from person to person, and a select crew would throw it on the Y. Hundreds of students were involved."
—David Squires, Class of 1958