NACI Develops Culturally Responsive Educational Materials with Utah Tribe Leaders Read Time: 3 minutes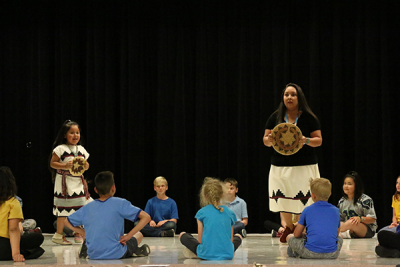 Provo—The BYU ARTS Partnership, an initiative of the Brigham Young University's David O. McKay School of Education, will receive a $40,000 grant for arts projects from the National Endowment for the Arts (NEA) to support the Native American Curriculum Initiative (NACI). This grant will help NACI continue to develop culturally responsive education materials. NEA grants are rare at BYU, and only 25% of applicants were awarded this year.
"It is thrilling to receive the grant," said Brenda Beyal, coordinator of the NACI. "We are committed to amplifying Native voices in education by fostering partnerships with the sovereign nations in Utah, and this grant will help us to continue in our commitment to do so."
As a collaboration between the BYU ARTS Partnership, the Utah Division of Arts and Museums (UDAM), and representatives from Utah's Native American tribes, the NACI is designed to teach children about Native history and culture through the arts.
The NACI enlists Native artists from UDAM's Native American Curriculum Teaching Artist Roster to perform and present at summer conferences. Project partners also create professional development materials for teachers. "With the grant we will hire staff to develop materials and provide professional learning for teachers in culturally responsive teaching, with philosophy and practices learned while developing lesson plans with leaders from the Utah tribes," said Cally Flox, the founding director of the BYU ARTS Partnership.
NACI is a place where growth in the classroom can be achieved with civility and grace. The grant will allow NACI to continue to bring real tribal stories to schools, fill historical gaps in education and provide teachers with culturally responsive materials that give them confidence in the classroom.
"As the country and the arts sector begin to imagine returning to a post-pandemic world, the National Endowment for the Arts is proud to announce funding that will help arts organizations such as The Native American Curriculum Initiative re-engage fully with partners and audiences," said NEA acting chair Ann Eilers.
This grant comes at an opportune time, as there is a higher appreciation of the arts in a post-pandemic world. Eilers continued, "Although the arts have sustained many during the pandemic, the chance to gather with one another and share arts experiences is its own necessity and pleasure."
If you're interested, continue reading for more information on the Native American Curriculum Initiative. 
Written by Sadie Stratford
Contact: Cynthia Glad