PROVO, Utah, USA—Yuánfen, 缘分, is a powerful concept in Chinese thought. More active than the Buddhist concept of karma, it encompasses the power of life's many interwoven chances to bring people together and create natural bonds among friends. 
The harmonious fruits of yuánfen were on display this month at Brigham Young University in Provo, Utah, USA, at two events held over one weekend: the annual BYU China Conference, sponsored by BYU's McKay School of Education, and the Centennial Celebration of David O. McKay's Visit to China. The conference, focused on building US-China relations, is in its seventh year, but the roots of BYU's relationship with China and its people run deep, extending back more than a century.  
Celebrating David O. McKay's Visit to China 
At the centennial celebration, held on Friday, February 11, BYU faculty member Peter Chan, PhD and chair of the BYU China Conference Advisory Board, outlined the work of the McKay School in China, including the development of the McKay School's rich and rewarding relationship with Beijing Normal University.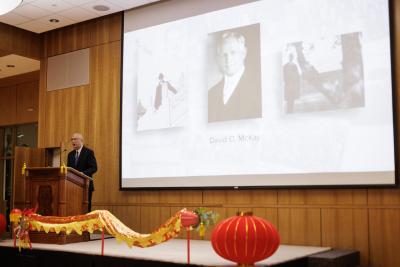 That relationship has led to the creation of e-learning materials that have been used in teacher training throughout China, as well as ongoing national teacher education conferences in which McKay School faculty and affiliates provide professional development for Chinese teacher trainers and engage in meaningful exchanges with their Chinese colleagues. The McKay School also sends senior BYU students to The Clifford School, an English immersion school in Guangzhou, China, for a semester-long student teaching experience. 
"What we have done is the continuation of a long history of interactions with China dating back to David O. McKay's visit a hundred years ago," said Chan, who was also a presenter at the next day's 2022 BYU China Conference. "Our friendship has a strong foundation and will continue in the years to come." 
In fact, the roots of that friendship, and of David O. McKay's experiences in China, were planted long before McKay's 1921 visit. Four missionaries from The Church of Jesus Christ of Latter-day Saints spent time in China in the 1850s, and in 1910, Alma O. Taylor and Fred Caine made a 49-day visit to China at the end of an eight-year mission to Japan for the Church of Jesus Christ, which is the sponsoring organization of BYU. 
In a report to church leadership given after their return to the United States, Taylor—like David O. McKay a decade later—expressed concern for the political and social upheaval then occurring in China and for the wellbeing of the Chinese people. 
"The home is the foundation of Chinese society," Taylor wrote in his report. He expressed concern about the corrupting influence of certain Western businessmen who engaged in immoral practices in China and also recorded that Chinese marriages seemed loving despite often being arranged, a departure from Western custom.  
"'As far as a long experience would enable me to judge, I verily believe that the majority of homes in this country are reasonably happy ones and the wives hold a position not of sufferance, but of love,'" he wrote, quoting Dr. John McGowan, a Christian missionary who lived for many years in China. Taylor added, "'Tis true that marriages are performed in what to a westerner may seem an arbitrary mechanical loveless way, but . . .  a person cannot safely theorize on Chinese love knots while holding up the western custom as a standard."  
Taylor's report may have helped influence the decision in 1920 to send David O. McKay, an educator, school administrator, and apostle of his church, and Hugh J. Cannon on a year-long trip on behalf of the First Presidency of the Church of Jesus Christ. The trip, which lasted through December 1921, was meant to help the American church leaders learn more about the nations of the Pacific Basin. The Chinese leg of the journey, according to Cannon's later writing, included a trip to Peking Normal College, which today is Beijing Normal University, and a meeting with the college's then-president, Cuiying Deng—the only university Cannon and McKay are known to have visited in China.  
Cannon later recorded that their visit to the college "aroused wonderment. Those who believe the Chinese are a degraded and ignorant people should have been with this party." With their admiration for the people of China growing, it was perhaps natural that, on January 9, 1921, McKay and Cannon would be moved to bow their heads in a grove of cypress trees near the Wumen or Meridian Gate to Beijing's Forbidden City to offer a prayer for the Chinese people.  
In the years following his return from the Pacific tour, McKay rose in seniority in his church, eventually serving as its president for almost 20 years. In that time, he was a strong advocate for both harmony between nations and for education across the world. Both BYU's college of education and the building in which that college is housed are named for McKay. 
David O. McKay's grandson, John L. McKay, said in remarks at the centennial celebration dinner that President McKay's service in China was the result of deeply held beliefs he shared with his wife, Emma Ray McKay, and of a personal fascination with and love for China and Chinese culture.  
He recalled President McKay's profound gratitude for a life spent traveling the world, including almost 62,000 miles by water, car, streetcar, train, horseback, camel, and other means during the 1920–21 trip. McKay's blessing in that cypress grove, now a part of Zhongshan Park, took place at a complicated time in world history, John McKay said, with the world still suffering "the devastating effects of famine, the lingering aftermath of World War I and other difficult conditions."  
With these challenges in mind, David O. McKay was moved by compassion for the Chinese people to pray for peace, harmony, and God's mercy towards His children so that "the progress of pestilence, starvation, and ultimately death stalk no more through the land." He expressed gratitude for his and Cannon's experiences in "this great land of China" and prayed "that the petition setting this spot apart as a place of prayer and dedication may be granted by thee and that it may be held sacred in thy sight." 
John McKay, who affectionately referred to his grandfather as "Papa Dade" throughout his speech, said the McKay School's strong ongoing relationship with Beijing Normal University and with educators throughout China is a blossoming of David O. McKay's efforts a century ago. 
"Papa Dade would be thrilled to see this gathering, in this location, as we build bonds of respect of friendship, of understanding, and ultimately of love. I close with his words: 'All (people) and especially Latter-day Saints, should preach and practice the gospel of love, and decry, as well as deplore, manifestations of ill-will and hate. Truly, the time has come as perhaps never before when (people) should counsel together, and in wisdom determine how the world may be made a better place in which to live.'" 
The bonds that emerged through that prayer were strengthened over the decades following McKay's 1921 visit due to the dedication of other people with ties to BYU and the Church of Jesus Christ.  
For example, journalist, activist, and Utah native Helen Foster Snow not only reported on Japanese aggression in China in the 1930s, the corruption of the government of Chiang Kai-Shek, and the rise of Chinese communism; she was also an activist in standing up for Chinese rights against the Japanese invaders and in helping form the Chinese Industrial Cooperatives or Gung Ho ("work together") movement. Gung Ho helped provide jobs and stability to Chinese people suffering economically under Japanese occupation. After her death, Snow's family donated her photographs, documents and writings to BYU, where the Helen Foster Snow Papers are a significant and oft-studied part of the Special Collections of the Harold B. Lee Library. 
Building that relationship continues today, said centennial celebration speaker Changyun Kang of the China Education Innovation Institute at Beijing Normal University, who spoke via videoconference. He noted that both BYU and BNU "enjoy hundreds of years of history and have made significant contributions to their nations."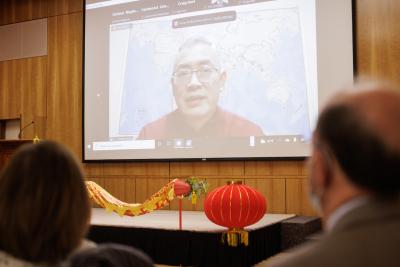 He traced the history of milestones between BYU and BNU, including Snow's activities in China, many visits by McKay School faculty to BNU, and the McKay School's ongoing contribution in the annual China Education Innovation Achievements Expo, including plans to participate virtually this year. Kang also noted that, in 1979, BYU became the first American university to send a performance delegation, the Young Ambassadors, to China after the resumption of diplomatic relations with the United States—a trip prompted by advice from then-BYU President Dallin H. Oaks, who is now first counselor in the First Presidency of The Church of Jesus Christ of Latter-day Saints. 
"Time flies, a hundred years of ups and downs, adversities and adventures, have passed like an arrow," Kang said. "The friendship between the Chinese and American people has withstood the test of time. . . . It is our shared vision to enhance education quality, promote mutual learning and cooperation among global educators, and to make contributions to build a better world." 
Richard Osguthorpe, dean of the McKay School, said he has long felt that, as he followed in David O. McKay's footsteps in pursuing a career in education and visiting China, he has "a little bit of China inside me." Decades ago, Osguthorpe accompanied his father, Russell Osguthorpe, to China when the senior Osguthorpe was a McKay School professor.  
Richard Osguthorpe was touched by a visit to one of Beijing's first schools for special needs students, an experience that became even richer in his memory when, some years later, he and his wife, Gwen, had a special-needs daughter. 
"It's a wonderful relationship," he said of the McKay School's bond with China and with BNU, "a relationship that has been built over many, many years by many people, some that are still with us and some that aren't. And that all started with a sacred dedicatory prayer in that place, and this evening, even, is a result of that sacred offering." 
Other speakers at the centennial celebration echoed many of those sentiments, particularly a call for continued work towards a positive relationship between BNU, BYU, China, and the Church of Jesus Christ. 
Eric Hyer, a BYU political science professor who specializes in Chinese foreign policy, said he likes to take his students to the very spot where David O. McKay uttered that prayer in January 1921. "It's always thrilling to walk my students through that moment," he said, and to trace the evolution over time of the relationship between China, BYU, and The Church of Jesus Christ.  
This includes advice from numerous Church leaders, from President McKay to Spencer W. Kimball and current President Russell M. Nelson, encouraging young people to learn Chinese and to find other ways to engage with Chinese culture and people. He said McKay's visit offered hope for the future of the China-US relationship. 
"When President McKay and Brother Cannon arrived in China in January 1921, . . . they entered a China that was in political chaos, torn apart by warlords and other political payoffs," he said. "And I'm sure that the place looked quite hopeless to them. But in their perfect vision, they saw a future for China that would be better." 
Jeff Ringer, associate international vice president of BYU, spoke of the university's larger activities and interests in China, from ongoing study abroad programs and tours by BYU performing arts groups to deeper commitments like the China Teachers program, which over the past 30 years has sent about 75 people per year, pandemic years excepted, from BYU to teach in nine different Chinese cities at 18 partner universities.  
Tens of thousands of Chinese students have studied with those teachers, including virtual, synchronous studies during the pandemic, Ringer said. These efforts have blessed BYU, he said, and opened doors for many faculty and students to pursue projects in China. 
"Building and maintaining these relationships is critical as we learned during the Chinese Spectacular tour in 2019, when the Chinese ambassador personally intervened to see the last-minute visas were granted to our touring group," Ringer said, and expressed appreciation to the McKay School and to Dr. Chan for their work in deepening the ties between BYU and China.  
"I'm incredibly grateful to our hosts here this evening, the McKay school, to Dean Osguthorpe, of course to Peter Chan, who has been a prime mover and so much of this over the years in helping us maintain what we view, as a university, as one of our critical international relationships." 
China Conference Continues a Crucial BYU Tradition 
Speakers at the day-long 2022 BYU China Conference, held on Saturday, February 12, provided analysis, insight, and calls for deeper engagement between China and the United States, and expressed appreciation for the positive relationship between the Church of Jesus Christ and China, particularly those aspects of the relationship that have been facilitated by BYU.  
The China conference's origins lie in an effort by students interested in China to create an educational event that would build leadership skills in BYU students, said organizer Peter Chan in a plenary address at the China conference. 
"The conference has fulfilled its initial purposes for the students, but it has also achieved something unique: it has provided a platform for BYU affiliates who have an interest in China to get to know each other and to dialogue with one another," Chan said. "I had heard from multiple administrators and faculty that they knew little of what other entities at BYU were doing in China or which BYU affiliates were out there doing substantial China-related work, but now they can learn about ideas, projects, resources, and experiences from notable individuals." 
These and other efforts have built goodwill between the people of China and the people of Utah, Chan said, regardless of the complex relations between the United States and China. 
This includes highly localized efforts like those of Teacher Yamin Zheng of Provo's Cascade Elementary School. In 2019, her class sent cards expressing support and encouragement to Chinese tourists who were victims of a bus crash in southern Utah; in 2020, her students made a video singing in Chinese to cheer the people of Wuhan in the early days of the coronavirus pandemic.  
Ms. Zheng's efforts caught the attention of millions of people in China, including China's president, Xi Jinping. "Zheng initiated a genuine service out of her own goodness," Chan said. "Yet, her goodness, creativity, and hard work brought about greater good than she ever imagined." 
The long history of bridge-building between BYU and various institutions in China has meant that "last year was actually a busy year for BYU activities in China," Chan said.  
A photo exhibit commemorating the 90th anniversary of Helen Foster Snow's arrival in China, featuring materials supplied by the BYU library, toured throughout the country. This spring, BYU is offering a course analyzing United States-China relations through an examination of Snow's life and work there; and, as in past years, the McKay School continued its participation in the China Education Innovation Expo.  
These successes are the result of commitment by many people associated with BYU and with Utah—a commitment that should continue, Chan said. 
"We want your involvement and participation to help bridge the people in China and the people in the United States, especially those who are in our community," he said. 
Other speakers at the conference analyzed various aspects of life, work, and education in China for both Chinese people and U.S. expatriates living there. 
Daniel Hemmert, BYU graduate and director of the Utah Governor's Office of Economic Opportunity, and Miles Hansen, BYU graduate and CEO of World Trade Center Utah, celebrated the relative stability of Utah's ongoing trade relationship with China. China is Utah's third-largest trading partner and third-largest exporter, and prior to the worldwide pandemic, Chinese tourists were the second-largest group of visitors to Utah, spending hundreds of millions of dollars in the state each year. Despite current political unrest between the United States and China, Hemmert and Hansen said, the economic and trade relationships between the two countries remain both complementary and mutually beneficial. 
Taowen Le, professor of information systems and technologies at Utah's Weber State University and a BYU graduate, spoke about US-China relations through the lens of his own experiences, emphasizing the importance of person-to-person diplomacy and friendship. As long as both parties yearn for peace, he said, and are willing to take the time to understand one another and contribute positive energy to interactions, they are acting as envoys for peace and harmonious relations between countries. 
Sean Stein of the American Chamber of Commerce in Shanghai and former consul general of the United States there, spoke via video link, analyzing trends in US-China relations over the last five years and the determination of many American companies to invest in and operate in China despite U.S. government advice. He said the economic development of China and the United States is "irrevocably intertwined" and that he hopes both countries' leadership will take steps to repair and strengthen the relationship between the two nations. 
BYU alumnus Timothy Stratford, an international lawyer who advises clients doing business in China as well as Chinese companies seeking to expand globally, is chairman emeritus of the American Chamber of Commerce in China, a former assistant U.S. trade representative, and the most senior former US trade official working in the U.S. business community in Beijing. He analyzed the current relations between the United States and China, expressed hope that both countries would try harder to understand one another to diminish the inherent conflicts in their systems, and, ideally, compete where they should, cooperate where they can, and confront when they must. 
Breakout session presenters at the China Conference included: 
Cristal Moore, lawyer and founder of the Women are Wonderful Association in China and a BYU alumna who spent years in China, where she gave birth to some of her five children; Moore spoke on how Americans can thrive in China, which she considers a wonderful place to raise a family. 
Dan Stephenson, executive director and co-founder of Economic Bridge International, who gave tips on pursuing a degree abroad 
Joseph Andersen, director of international government relations for Alibaba Group, who provided career advice for those interested in US-China business 
James Moore, CEO and China government specialist of IDFL East, who provided a highly positive note with his remarks, "Hope Springs Eternal in China" 
Michael Leonard, assistant dean of the McKay School, provided opening remarks, while Yulin Liu Housley and Jeff Freeman, co-presidents of the BYU China Conference 2022 committee, presented closing remarks.