Read Time: 10 minutes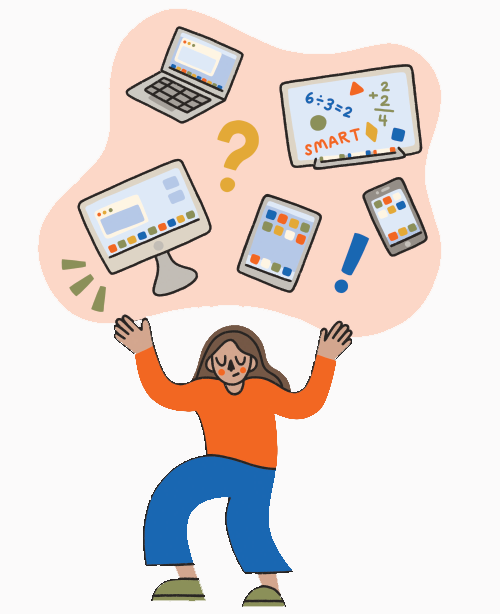 It's tough for all of us.
It can be overwhelming to keep up on educational technology, even if you're in the classroom year after year, according to Royce Kimmons of the Department of Instructional Psychology and Technology. So whether you're a seasoned educator or are reentering the classroom after a break of many years, don't sweat it too much.
Kimmons said, "I think that the answer for new and returning teachers is to focus more on developing confidence in problem solving, creativity, and learning new technologies."
But with so many technologies to learn, where does one even start?
To answer this question, Kimmons monitors and studies educational technology trends and shares his insights in journals, blogs, and other forums. He pulls data from many publicly available websites. His sources? School and district websites, research article titles and abstracts in top educational technology journals, Twitter posts with #EdTech, and more.
Last year he scraped home pages of 51,496 K–12 school websites across the United States. He then extracted all external links that these sites connected to and sorted these links by internet domain (Google.com, Facebook.com, etc.). This resulted in 1.1 million links representing 72,640 internet domains.
Kimmons found the two most-linked-to resources among school home pages were Facebook and Twitter, at a rate of almost 50 percent. Schools are likely using these platforms as community outreach efforts. Social media sites such as Instagram, LinkedIn, and Pinterest are also highly represented.
What has he learned over the past three years?
Google-owned domains (YouTube, Docs, Search, Drive, Sites, and Accounts) represented the top four most-linked-to domains for three years running. These domains support school and district communication by finding, sharing, and managing documents, videos, and other files.
Scheduling and survey tools (such as SurveyMonkey, Eventbrite, and SignUp Genius) were also commonly posted each year.
Notably, Zoom was the fifth most-shared domain in 2020 but was not among the top 25 in 2018 or 2019.
Centers for Disease Control (CDC) links were common in 2020 but were much less common in previous years.
Emergency remote teaching pushed technologies including Zoom, Google Meet, Google Docs, and Nearpod to the forefront in 2020. These enabled coordination at a safe distance.
Kimmons said that although 2020 saw a greater emphasis on a few specific tools (such as Zoom) and information sources (such as the CDC) as well as increased activity overall, the general nature of the activity did not change much, with most tools that were being used in previous years also being used in 2020 and in similar orders of frequency.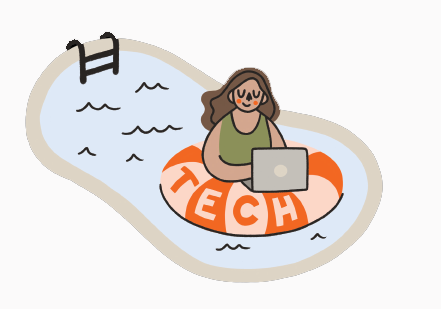 Shallow Dives Into a Deep Pool
Take a cleansing breath and realize that you don't have to learn everything about everything. Focus on a few of these top techs to study and get comfortable with.
Begin by learning more about the technologies currently around you. Increase confidence by using your phone, email systems, and other technology currently in your life. Use more features and push your limits little by little. That learning will transfer to other products and situations.
Even without an educator login, Utah's Online Library and similar sites can get you into the school mindset. These contain open educational resources or free products for educators. Build your skills in PowerPoint, Excel, and different databases. LinkedIn Learning also provides tools to advance skills specific to your career field.
Kimmons's research shows the most common programs in use nationwide, but you'll want to know what is being used in your area. Explore your school district's website to see what technologies they currently use.
An Alum Who Has Been There
Esther Pigg, '09, recently began a return to using her early childhood education degree professionally after having stayed at home for a few years with her young family. She started substituting in February 2021 in Wasilla, Alaska. Because she had her teaching license—and perhaps due to COVID-19—she was quickly offered long-term substitute positions.
Pigg said, "A nice thing for me was that I had previously taught full-time in the same district, so I knew the curriculum and a lot of the technology the district used. I needed to be refreshed on the technology because I hadn't used a Promethean or smartboard in years, but I had had experience with them.
"A lot of the communication had changed. Teachers use apps to communicate with families. I had to learn how to use and monitor a lot of different apps and programs that I wasn't familiar with, such as Lexia, and district testing sites such as AIMS and MAPS. A lot of work in the classroom is done on computers and Promethean boards as well, which was an adjustment as I was used to hands-on learning. Each student has a laptop and knows how to log in and access school and district links. Brain breaks are done using the Promethean board, etc."
Tips from Pigg: "Look at the district and school websites and see what the curriculum is and try to learn about the different programs. Take professional development classes that teach about technology (such as Google Classroom classes). Don't be afraid to ask for help."

Your Coaches and Supporters
Remember, you're not alone in this. This is a marathon, not a sprint, so get some "running buddies."
Kimmons's advice is, "Because things change so rapidly, teachers [especially today] need to be connected with other teachers in ways that support their ongoing learning. This might be in the form of using professional learning communities or networks, sharing resources with other teachers, or just having access to lifelong learning opportunities via open resources."
"Work with a coach!" said Darren Draper, director of innovative learning in Utah's Alpine School District, who supervises a team of 38 coaches. As former teachers who have excelled with classroom technology, these coaches work to support and improve educators' uses of technology in teaching and learning. Draper added, "Earning the Ed Tech Endorsement can be a great way to improve knowledge and skill sets associated with the instructional uses of technology."
Tools to Transform Learning
Choose wisely. Kimmons's position is, "I think the issue is less about what technologies are out there now and more about how we are thinking about the technologies we have available to us."
The PICRAT model, developed by Kimmons and McKay School colleagues Charles Graham and Richard West, gives educators an easy way of thinking about maximizing technology. The authors have explained that "PIC (passive, interactive, creative) refers to the student's relationship to a technology in a particular educational scenario. RAT (replacement, amplification, transformation) describes the impact of the technology on a teacher's previous practice."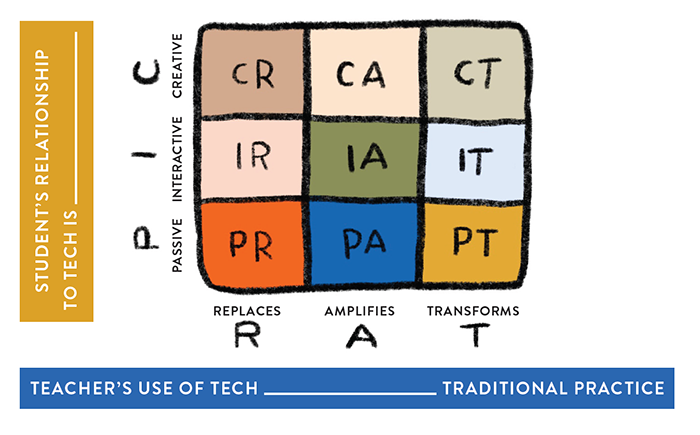 This matrix shows the relationships of the student, the technology, and the work being done. It focuses on two questions:
1. What is the technology use's effect on practice and what will it be used to do?
Replace?
Amplify?
Transform?
2. What is the student's relationship to the technology?
Passive?
Interactive?
Creative?
Kimmons believes the best technology integration occurs in the top right of the matrix. But most of what we do lingers around the bottom left. If you find you're just replacing what you were previously doing, ask yourself, "Can I amplify or transform my practices instead?"
If your students are passively watching videos in your class, ask yourself, "Are there ways to make this more interactive?" or "Why can't I get them to create their own videos?"
You don't need to master every product out there. Start exploring and build your confidence and your network of helpers. Then select your tools wisely to provide the best learning experience for your students.
This is the third article of a four-part series. Click the links below to read more tips about returning to teaching:
Written by Cynthia Glad
Illustrations by Abigail White, '23