Read Time: 2 minutes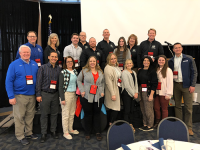 In January and February, the McKay School Leadership Program took a total of 18 students to the Utah Association of Elementary School Principals (UAESP) and the Utah Association of Secondary School Principals (UASSP) conferences in St. George, Utah.
At these conferences, school and district leaders from throughout the state gather to learn together from national and local experts, to network with other leaders, and to rejuvenate. There are keynote presentations, breakouts, networking sessions, awards ceremonies, and shared meals.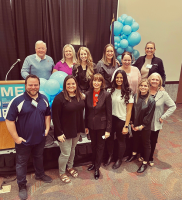 The EdLF groups drove down together in large 12-passenger BYU vans, ate meals together, attended the conferences, were inspired at the St. George Temple Visitors Center, and enjoyed some of the beauties of southern Utah on walks and hikes.
Students were able to network with established professionals within their field, learn from seasoned local and national presenters, gain a sense of esprit de corps that exists within those professional associations, gain vision with respect to their future as school leaders, and to build bonds of trust and friendship within their graduate cohort and professors.
Writer:  David Boren
Contact: Cindy Glad