Read Time: 8 minutes
SCHOOL
Rankings Jump
The latest version of the U.S. News Best Graduate School rankings saw big gains for the McKay School of Education. The college came in at number 78 overall, a 10-point jump.
"We are honored to hear of the increased ranking of the graduate programs," said Dean Mary Anne Prater. "The McKay School attracts top graduate students who are prepared for the rigors and challenging demands of our graduate school, and our faculty possess a wealth of experience, a solid research background, and expertise in addressing the issues facing educators in today's complex world and the evolving field of education."
Consortium Hosts Lisa Miller

Scott Richards, professor of counsel-ing psychology and member of the Consortium for Spiritually Centered Psychology and Education, hosted Lisa Miller of Columbia University at BYU. Miller lectured on "The Science of Spirituality in Children and Youth" for the McKay School and presented two additional lectures on campus.
Miller, PhD, is a professor and director of clinical psychology as well as the director of the Spirituality Mind Body Institute. She is the author of the New York Times Best Seller The Spiritual Child. Miller's visit was part of the consortium's mission to explore the roles of religious faith, spirituality, and moral values in psychology and education.
Literacy Promise Conference

The Literacy Promise conference, cosponsored by the McKay School Alumni Society and the BYU–Public School Partnership, was held this spring in Salt Lake City. More than 900 attendees came to hear nationally recognized literacy experts present timely information, useful examples, and interesting insights in the field of literacy. Their material, gleaned from years of personal experience, is a source of new and helpful resources for teachers of grades K–12.
The keynote address was given by author Jennifer A. Nielsen, a New York Times best-selling author. Her works include the Ascendance Trilogy and the Mark of the Thief trilogy. The two-and-a-half-day conference is held every other year at the Calvin L. Rampton Salt Palace Convention Center.
First Annual Kaha Nui Summit Informs and Motivates Polynesian Students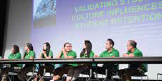 The first annual BYU Polynesian Interdisciplinary Summit was held in the Wilkinson Student Center. In the opening session, G. E. Kawika Allen, McKay School professor of counseling psychology and Kaha Nui Summit director, said he was pleased and grateful for the opportunity to gather Polynesian professionals and highlight the various intellectual, artistic, and academic contributions Polynesians offer to the world.
"We are in a position now to continue this legacy of honoring our ancestors and advancing our next generation by expanding our sphere of influence," Allen said. Allen and the Summit's executive board are excited to continue this new tradition in November.
FACULTY
Teaching Children with Disabilities to Monitor Their Behavior Improves Their Behavior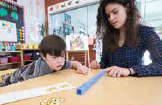 McKay School professor Blake Hansen, a counseling psychology and special education professor, developed a unique study published in Remedial and Special Education and found that the key for those with disabilities was self-monitoring.
"The most exciting part of that study's findings is that children with the most significant behavioral challenges can monitor and evaluate their behavior," Hansen said, "and this change maintains over a long period of time."
In the study, Hansen identified students with intellectual disabilities who would benefit from self-monitoring techniques. The technique was simple. Each time the self-monitoring student followed the teacher's directions or complied, the student could put a sticker in a square on their progress sheet. Once a specified number of squares on the sheet was filled, the student was rewarded with either a break from studies or a desired toy.
Conducting Therapy in Native Languages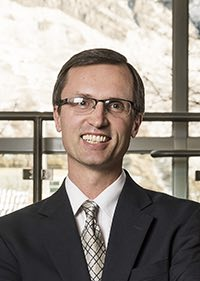 Timothy Smith, chair of the Department of Counseling Psychology and Special Education at BYU's McKay School of Education, coauthored a new book with Joseph E. Trimble, PhD, a Western Washington University professor. Their book, published by the American Psychological Association, is titled Foundations of Multicultural Psychology: Research to Inform Effective Practice.
"The language of the heart and your emotions is still your native language," Smith said. "To be able to communicate in deep emotional issues, [therapy] should be con-ducted in their native language." Ethnic minorities underutilize opportunities for treatment and psychotherapy because racial issues and experiences impact the effectiveness of psychotherapy for them. Public health policies can do better to promote access to mental health services among all people in need of those services.
Pamela Hallam New Chair of Educational Leadership and Foundations Department
Pamela Hallam, previous chair of the education doctorate program in the Educational Leadership and Foundations (EdLF) Department in the McKay School, replaced Sterling Hilton as chair of the department in January 2016.
"Sterling has been a terrific leader for the EdLF Department, and he has mentored Pam in her preparation to take his place," said Dean Mary Anne Prater. "They are both outstanding faculty members. Pam has already demonstrated her strong leadership abilities with extensive administrative experience in the public schools. I look forward to working with her in this new role."
STUDENTS
McKay School Student Awarded NASP–ERT Minority Student Award

Tianna Freeman, a McKay School second-year graduate student, was honored with the National Association of School Psychologists Education and Research Trust (NASP–ERT) Minority Scholarship, which highlights promising future professionals pursuing careers in school psychology. Having grown up in an encouraging family that motivated her to achieve her dreams, Freeman wants to offer that same support to Native American school students.
"I want to be more than the guidance counselor," she said. "I want to be the support system that is lacking in my hometown." The award seeks to support culturally diverse graduate students who will work and provide need-based services to diverse populations upon entering the workforce.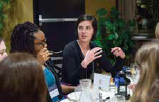 At the 2016 Dinner with a Principal event, professional educators and prospective teachers came together for an evening of dining, networking, and conversation in order to help the students prepare for their futures as educators.
Brianne Baugh, a senior majoring in elementary education, said that she "would recommend this event to any education majors who are approaching their internship/student teaching because of the opportunity to network and become familiar with administrators."