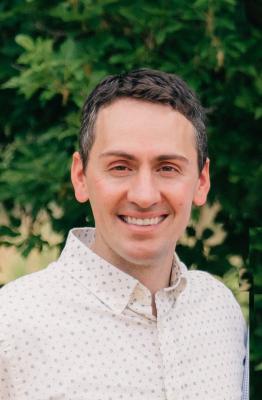 Shawn Cates, EdD '20, is the senior manager of worldwide finding for the Missionary Department of The Church of Jesus Christ of Latter-day Saints. His department's focus, on spreading the message of the Church through social media and digital initiatives, has been rolled out steadily across the world. "This has happened in the US for a long time. My job specifically is to get that up and running across the majority of the world."
Then, the COVID-19 pandemic erupted, and everything changed. The social media initiatives on which Cates works and trains missionaries have become a vital tool for finding people interested in learning more about the gospel. The pandemic has made it difficult for missionaries to find people to teach using traditional techniques. That's why learning how to use social media to adapt to the new global environment is vital to missionaries' effectiveness and productivity. The scope of Cates' work has exploded this year. "We were testing, doing a handful of social media efforts in a few missions in 2019, and our goal was to test 20 missions in 2020. Then COVID-19 hit, and so now we are in about 330 missions."
Typical strategies for finding investigators, such as knocking on doors and street contacting, are no longer an option for many missionaries as the pandemic continues. Many have had to pivot to online strategies like using Instagram and Facebook to find people to teach. Cates shared an example of two missionaries from Brazil, serving in London, who decided to teach English to expatriate Brazilians—and, in the end, possibly reached more people than they otherwise would have. "They started it up. They created a group; they had a page that they could push out in publications and even ads to millions in London," he said. "After a handful of weeks, they had like 800 people in their learning English group, and a bunch of people saw the missionaries and said, 'What are you guys doing here, anyway?'" 
For Cates, it is very rewarding to see the impact of digital finding on the lives of those who come into contact with the missionaries. "I got pictures of people in Ecuador and in Brazil who had responded to some of the digital initiatives that we put out there. They're talking about how their lives have changed and their families were changed from having the gospel influence and having an eternal family. I love seeing that." The success of digital finding will continue to grow, he said, as online training continues and strategies become more advanced. 
From his time as an EdLF student, Cates has experience working with educational leadership initiatives and sees this as a contributing factor to his success with digital finding for the missionary department. One thing that he appreciated about his time in the doctoral program was the flexibility and customization available to him as he worked on his dissertation, finishing it earlier this year. "I aimed to cater a lot of my work to education within the church which just helped me so much. Even though some stuff is public-school specific . . . I was able to really make it very practical work." 
Cates' dissertation focused on converting a high school, Mexico City's Benemerito de las Americas, into a missionary training center. He looked at the objectives and purpose of the center and then at how that change would be implemented. Cates gathered this information by talking to building managers and looking through archival documents and surveys the MTC had done. The project was a success: that high school is now the second-largest MTC in the world and has replaced the previous Mexico MTC. 
Cates continually applies what he learned in the EdD program to enhance missionaries' spiritual education and to analyze the systems in which he works. "I took away from EdLF that the things we are trying to improve have levers, and there are ways to get at those levers. Data is a really key piece to that. Collaborating with others is another really important piece to that, and if you put those two together, you're better off."
Writer: Camille Ladd
Contact: Cynthia Glad 801-422-1922