Read Time: 7 minutes Learning Outside of the Classroom

Art education master's student Priscilla Stewart is helping her students learn outside of the classroom.
If you had visited Utah's Ensign Peak dur­ing the summer of 2017, you might have witnessed something truly rare: teenagers without smartphones in their hands.
"Kids these days are spending more time in front of a screen. It used to be the weird kids who would stay inside and play video games, and now it seems like it is the weird kids who are going outside and playing," says Priscilla Stewart, who cocreated the Mountain Art School with her BYU professor, Mark Graham.
Nature Is a Classroom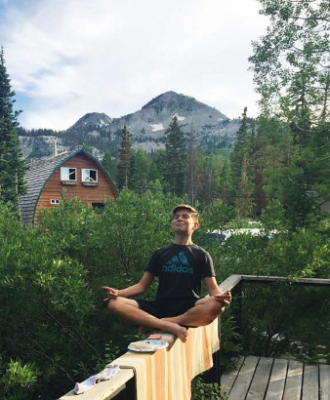 When she is not rock climbing, Stewart is focused on bringing middle school students out of the classroom and into Utah's natural environment. The Mountain Art School, a weeklong art camp held in the summer, is the vehicle for her art education master's thesis.
"I see so many students who are so sick of being stuck at a desk," says Stewart. "I think it is possible to learn when you are not sitting at a desk when you are outside, asking ques­tions and experiencing things."
Stewart put her theories to the test and hiked around Big Cottonwood Canyon and the surrounding area with two groups of middle-school-aged students last summer. Students at the two sessions of Mountain Art School traded in their textbooks for sketch pads and set out to discover the wonders of Utah's natural landscape.
One trip took Stewart and the students to the top of Ensign Peak. Instead of pulling out their phones to snap selfies, the kids sat in silence and drew what they saw. Their work might not have the resolution of a smart­phone picture, but the memories from the experience were far more valuable.
"When you sit down and draw something, that place is always in your memory, and the details of the place are always in your mem­ory," says Stewart. "You learn to appreciate the place even more as you spend that silent time sitting there."
Nature Is a Home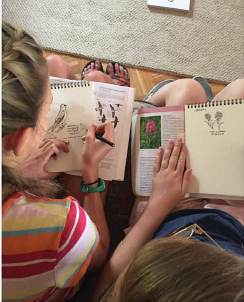 The Mountain Art School is a way for students to learn about much more than art—it is a way for them to learn about nature and their con­nection to it.
Stewart continues, "When you spend time with a place and observe it, you build a relationship with nature, and you feel more inclined to want to help it and protect it. My main goal is to get students from Utah out into Utah to see the natural environment in Utah."
The school isn't meant to make artists; it is meant to inspire students to ask questions and be excited about learning things. "I wanted students to think critically about issues tak­ing place in Utah that are taken for granted or seen as the 'normal,'" says Stewart.
The students learned the basics of Utah's climate from an expert, talked about both sides of the argument on Bears Ears National Monument and other national landmarks in Utah, and discussed the impact on Utah of Rio Tinto's Kennecott copper mine.
Graham explains, "Art education informed by a critical place-based pedagogy empha­sizes the activist, restorative possibilities of artmaking and affirms the need for students to become involved in learning outside the school."
Nature is a more effective classroom than some might think. "I can teach atmospheric perspective in the classroom on the projector, but it makes it real when you can go outside and see that atmosphere and talk about atmospheric perspective while looking at it," says Stewart.
Nature Is Fun
Utah's natural environment is an informa­tive place, but perhaps more important, it is a fun place to learn-and that is just how Stewart believes school should be.
A highlight for the students was the boat­making competition. Boats were crafted entirely from natural materials and then given awards based on their strengths. For example, the boat that functioned the best received recognition as "the most boatlike."
Nature Is a Necessity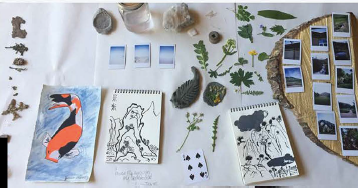 Spending time outside is more than a fun idea. According to Stewart, it is a necessary part of students' development. "Students need to be outside," Stewart says. "It is not some­thing that is an option—they need that." This place-based experiential learning has proven benefits and is a step toward truly holistic education.
Stewart's research led her to appreciate this definition approved by the Association for Experiential Education in 1994: "Experiential education is a process through which a learner constructs knowledge, skill, and value from direct experiences." As Stewart says, perhaps experiencing nature is much more memorable than reading about it in a book.
Nature Is the Future
Stewart's vision for the future of the Mountain Art School is to see it become as permanent as the mountains themselves. She has already secured a place teaching an art and ecology class at the Summit Academy in Draper, where she works now. She is cur­rently working to get grant money for an outdoor facility there as well.
With memories of the students singing the Utah state song on the van rides fresh in her mind, Stewart is looking ahead to what the school can become. Her vision is to part­ner the Mountain Art School with a school district and have students come to the camp for a week at a time during the school year.
Long walks, camping in the mountains, and time for meditation and reflection hardly seem like elements of normal curricu­lum. Perhaps they should be part of the way kids learn in school-or rather, out of school.
Written by Jake Gulisane
Photography by Priscilla Stewart