Read Time: 10 minutes

Coughing. Wheezing. Chest tightness. So 25.7 million Americans pull out inhalers to treat their asthma. But what if that inhaler causes new problems?
That is just one of the issues Kristine M. Tanner of the McKay School is investigating. The National Institutes of Health (NIH) has provided two multimillion-dollar grants to help her, her research associates, and her students in her communications disorders lab figure out this and other airway problems involving the voice.
Tanner is the principal investigator of a $2.5 million grant and a co-investigator with BYU mechanical engineering professor Scott L. Thomson on a $3 million grant. Counting the various subawards, 16 researchers from seven universities are included.
"The NIH R01 grant is an extremely prestigious and highly competitive award. We are very proud of Kristine for securing these federal grants," said Martin Fujiki, chair of the McKay School's Communication Disorders Department.
Both grants were received within a few weeks last summer. Because of various challenges just before the applications were due, including an emergency appendectomy, Tanner felt it was "truly a miracle to even get these submitted," and then it was even more miraculous that they were approved.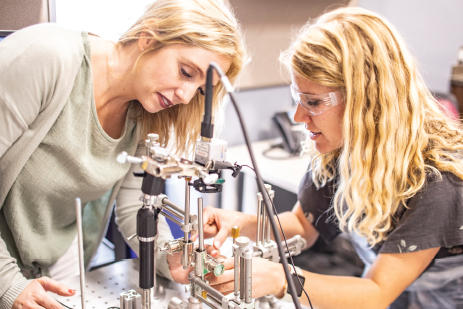 Tanner's grant will study the inhaler issues. Up to 50 percent of those using the breath-saving medication develop voice disorders, usually hoarseness—some in as little as two weeks. Tanner is working on understanding why these ailments occur.
On the project with Thomson, the team will investigate how stenosis, or narrowing of the airway, affects the voice. Thomson has a background researching the biomechanics of human voice production, which pairs well with Tanner's research interests in laryngeal and airway surface tissue hydration and environmental irritants, voice disorders epidemiology, and professional voice issues.
"People think, 'Oh, that's cute. Their voice is a little hoarse,' or that it doesn't matter," said Tanner about these vocal issues. "But if you think about the number of jobs in which you don't have to use your voice at all, they are very few."
Multidisciplinary Methodology
Through the course of this research, each year eight to 10 undergraduate, master's, and doctoral students will gain experience studying children, adults, and animal models. This will include analyzing pictures and video of vocal cords in action, listening to recordings of asthma patients speaking, vibrating tissues from animal models, and chemically analyzing tissues for inflammation. Students will also work with experts from the University of Utah, the University of Wisconsin–Madison, and Purdue University who are ear, nose, and throat specialists, pulmonologists, bioengineers, health scientists, and others who are at the top of their fields.
One student was recently overwhelmed with some of the math involved in the research. But she talked about how, because the project is using a cross-disciplinary approach, there are others who could help with the math, and she can contribute with her own strengths.
Tanner's lab was expanded over the summer to help make room for this collaborative work. In addition to the existing 300-square-foot lab dedicated to studying the voices of patients with asthma and voice disorders, another 200 square feet in the former seminary building next to the Taylor Building was remodeled.
"It is a new research lab dedicated to developing models for voice production in people with asthma," Tanner said. "This is a very important addition to our research, because it is a place for collaborative research including communication disorders, medicine, and mechanical engineering and bioengineering.
Modeling the voice in people with voice problems is an important step in developing cures and new treatments. It allows us to understand why people with asthma are at risk for voice problems so that we can develop and test new cures. It is like working with a virtual voice. These two research strategies cross-pollinate to maximize the outcomes of our research for those with asthma. Students are employed in both labs and are integral to the research happening there."
Research and Prayer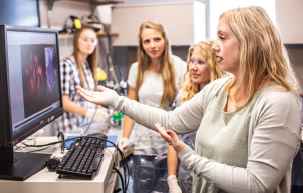 That all adds up to better experiences for students. "I don't view teaching any different in the lab or the classroom. It is all teaching and mentoring," Tanner said. "I have so many flaws, but I do pray for my students every day—the ones in my classroom and in the lab. I pray that I can help teach them in a way that will help take care of my shortcomings. I have such a strong testimony that if it is in line with God's will, if it is compatible, we will receive those blessings."
Amber Prigmore is one of Tanner's current graduate research assistants, and she also worked in her lab for three years as an undergraduate student. She has been able to do some preliminary data collection and literature reviews for these projects. She feels that the opportunity to be a research assistant has been very important in preparing her for graduate school and for her future career.
"I feel like it has exposed me to this whole new world that I really didn't know existed," Prigmore said. She plans to get licensed as a speech-language pathologist and then go on to get her PhD and do research. "Having been in Professor Tanner's lab for so long now, it has been invaluable learning the ropes of academia a little bit more and learning what research is really all about. It has been very valuable for my future career plans," she said. She recommends the experience to others: "I really think all undergraduate students should get involved—at least for some time—in research."
Tanner is grateful to the McKay School and the NIH. She said the McKay School has been a big help, offering equipment and space and providing internal grants that have supported the pilot research. The NIH was very generous in their grants, and Tanner realizes the responsibility that comes with these funds. "[The NIH] doesn't just support good research—they want the best research, the greatest research," she said. "We need to work as hard as we can so we can prevent and cure these communication problems."
Pathway to PhD
Three students from Tanner's lab are currently in PhD programs. Not bad since she has only been teaching here for six years.
Robert Fujiki, MS; Purdue University
Mark Berardi, BS; Michigan State University
Maya Stevens, MS; University of Utah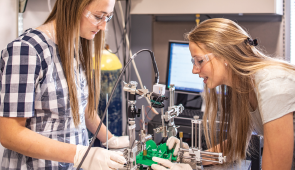 These three are part of the reason the Survey of Earned Doctorates report recently named BYU number five in the nation for undergraduates who later receive PhDs. A BYU News article states that BYU trails only the University of California–Berkeley, Cornell University, the University of Michigan, and the University of Wisconsin for graduates who went on to earn research doctoral degrees between 2007 and 2016. BYU produced nearly 3,000 during that time. The report is sponsored by six federal agencies.
Tanner thinks that student involvement in research has made a big contribution to that ranking. She said, "Harvard, Stanford, Brown, Yale, Princeton, UCLA—if you think of all these outstanding schools, BYU being number five is incredible! I don't know all the reasons why this is the case, but I think one reason is that students get exposure to research so early.
"They learn how much they can give back to society. They learn that their influence can be broader because the work you are doing can impact hundreds of clinicians," she continued. "Students become autonomous very quickly in the lab. They are encouraged to find solutions and then talk about it in a lab meeting. They know how to find several possible solutions and then go to supervisors and ask what they think."
Written by Sarah Dickson and Cynthia Glad
Photography by Bradley Slade