Read Time: 3 minutes
For Emily McDonald and Chloe Houghton, winning first place in the undergraduate research division of BYU McKay School's Mentored Research Conference was a big shock. But ultimately, it has improved their confidence in pursuing future research.
"Working on this research project has inspired me to consider ultimately pursuing a PhD so that I can continue to research topics that are interesting and important to me, as well as to the field of speech-language pathology," says McDonald.
BYU cultivates a strong environment of learning and research for both its undergraduate and graduate students. Mentored research, in which students perform meaningful research while guided by a faculty member, is a vital part of student learning across the university, and the David O. McKay School of Education is no exception. Toward the end of each school year, the McKay School hosts the Mentored Research Conference, where undergraduate and graduate students present their research.
As a team, Houghton and McDonald presented their research on people with aphasia, which was performed under the careful guidance of their professor, Tyson Harmon, PhD. "Aphasia is an acquired language disorder, meaning that you don't develop it from birth," Houghton explains. "It's usually caused by a stroke or a traumatic brain injury." McDonald and Houghton studied how people with aphasia completed tasks in attentionally demanding situations that simulate real-world experiences and compared those results to a control group.
Image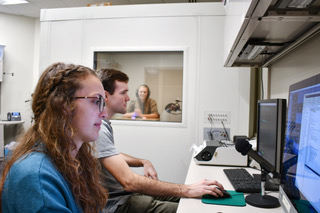 Preliminary findings of their research indicate that some people with mild aphasia are overlooked by the standardized assessments currently being used in the field. McDonald explains that "the purpose of this research is to create a supplemental assessment that can capture the challenges that people with aphasia face that are not captured in these other assessments." Ultimately, McDonald hopes that through the development of this supplemental assessment, "people with aphasia will be better equipped to participate in communication regardless of the setting they are in."
"It was really neat to be able to see that these distracting conditions could potentially be used in the future as part of a therapy session or as part of assessment evaluation to create a more holistic view of the difficulties that [people with aphasia] have with verbal discourse," Houghton says.
Houghton and McDonald both shared that performing research, presenting at the conference, and winning has made them hopeful about the impact they can have. "It's made me want to continue doing research in this lab, and hopefully be able to continue a thesis surrounding the things that I've learned about this specific population," Houghton says.
Writer: Rebecca Youngs
Contact: Cindy Glad