Read Time: 4.5 minutes
Virginia Dukelow Wilson, '64
Image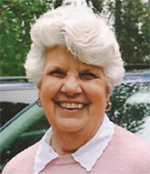 Virginia Dukelow Wilson, class of 1964, said she always wanted to be a teacher. She would often play school with her seven younger siblings, and when they were unavailable, she would line up her dolls and stuffed toys and pretend they were students. In her ward, after she graduated from Primary, Virginia was asked to teach the nursery class, and from that beginning, she has never stopped being a teacher.
"I consider teaching my God-given talent and still love it. 'Give me your hardest class,' " Wilson said. After earning her bachelor's degree in elementary education from the David O. McKay School of Education, she went on to earn a PhD from La Salle University in educational administration.
Wilson began her career teaching third and fourth grades. Later she transitioned to teaching adults in the local high school adult diploma program, teaching classes for the local community college, and acting as adult literacy program coordinator for the local library.
"I have most enjoyed teaching students of all ages in a wide variety of settings and helping them meet their personal goals," Wilson said. "I love the challenge of helping the students who have 'slipped through the cracks' renew their self-confidence and feel successful."
One thing Wilson observed over her years of working with struggling students, regardless of age, is that desired results come from basic teaching techniques and from students knowing their instructor cares about them personally. She recalls teaching basic reading and writing classes, GED test preparation classes, and adult high school diploma classes simultaneously on Lassen College campus. The adults who were in her class never considered themselves "college material."
"I remember two ladies—one a young single mother and the other a grandmother—who finished their high school work with me and went on to enroll in college classes and graduate. That was wonderful," Wilson said. "Also, many older men would come to a point in their careers where they could not advance without a high school diploma or equivalent. I would see them later around our small town, and they would give me a hug and say, 'You changed my life.' Wow, that made my day!"
Never in her career did she struggle with or question why she chose to be an educator. Wilson always knew she wanted to be a teacher and was determined to one day have her own classroom.
There was a point when Wilson had to work for a year before she could attend BYU. Several of her relatives questioned her efforts because they thought she would never be financially able to attend college. Through her efforts and some help from a kind uncle, Wilson was able to attend BYU and complete her bachelor's degree in three years.
"BYU gave me the complete framework I needed to complete my goal of being a teacher," Wilson said. "I am eternally gratefully for having had the privilege to attend BYU."
Outside of the classroom, Wilson and her husband, Nichol "Nick" Wilson, enjoy living on their property in Browns Valley, California. They are the proud parents of four children and the grandparents of 17 grandchildren, with one on the way.
Currently the Wilsons serve as temple workers in Sacramento. Virginia also serves as the first counselor in her ward's Relief Society and volunteers every week at a small library in a nearby mountain community.