Read Time: 10 minutes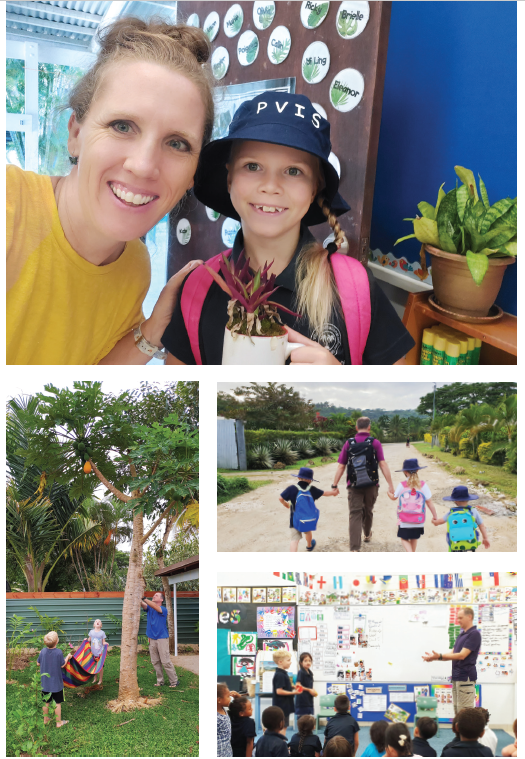 In December in Vanuatu, it's usually about 85 degrees, with maybe a few clouds in the sky or a little rain. Families might visit the beach the same day that they decorate a Christmas tree. And Vicki Macdonald Cornish, '03, enjoyed her final days of break before returning to her third- and fourth-grade class at Port Vila International School.
"We had been home for six weeks together, and I had loved it," Cornish said. "But we also feel that this life is a time to work hard. You're supposed to get worn out trying to do what you can in this life."
Cornish is an experienced teacher, a world traveler, and a stay-at-home parent who has recently returned to the classroom. She is also a lifelong seeker of miracles, finding them throughout a globe-trotting life that began in Utah County and that has led her again and again to this island nation of about 310,000 people—as a missionary, as a tourist, and, these days, as a resident with her husband and three of their children.
Her life is also one marked by continual teaching, although teaching wasn't originally Cornish's plan. As a native of Utah County and a daughter of travel-loving parents, Cornish started college at Brigham Young University–Hawaii "really terrified." She ended up having a "marvelous" experience, but she still hadn't found a major. That's when her mother encouraged her to spend a year teaching in Russia.
"I thought, 'Who goes to Russia voluntarily?' Plus, it was teaching kindergarteners, and that was another problem," she said. "I thought I'd have kids someday and love my own, but I didn't feel comfortable teaching. My experience in Russia changed it all."
In Russia, Cornish was freezing and could barely speak the language—but she was filled with joy and purpose.
"There was a moment that is still so clear to me now. I was walking down the hall with two students holding my hands, two being pulled by my ankles, and two running ahead," she recalled. "The Spirit said, 'This is where you're supposed to be, and this is what you're supposed to do.' It just felt so wonderful."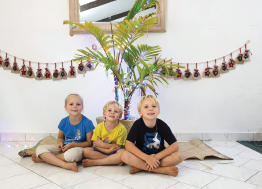 Cornish later taught in China, worked for a year in Utah, and then decided to serve a mission. She was called to the Fiji Suva Mission with paperwork for Vanuatu—which she'd never heard of. She fell in love with the nation's beauty, its resilient people, and its earthy language, Bislama. Serving in Vanuatu also confirmed her passion for education.
"Illiteracy is a huge problem here," Cornish said. "They're bright people here who mostly speak many languages but don't have educational opportunities."
Back home, Cornish threw herself into her own education, enrolling in the McKay School and receiving a bachelor's in elementary education from BYU. After earning a master's in math education from Southern Utah University, she then taught in Utah's Nebo School District for nine years, using summers to indulge her love of travel.
"My brother lived in Samoa, so I spent a summer with him teaching," she said. "I went to Ghana for three summers at an orphanage. I wasn't married, so I thought, 'I'll just keep teaching, and in the summers I can travel.' And then I met this really awesome guy, and we ended up getting married."
Cornish's husband, Matt, proposed to her in Ghana a few months after they had met. He is a pediatrician with three older children—Emily, Tyler, and Amy—from a previous marriage. To that flock, he and Vicki have added Kate, Daniel, and Oliver. Vicki devoted herself to building her new family and found that her teaching experience was highly useful for a stay-at-home parent. She and her husband share an interest in travel and a passion for service. In fact, after proposing to her in Ghana, Matt left on a consulting tour of the country's health clinics.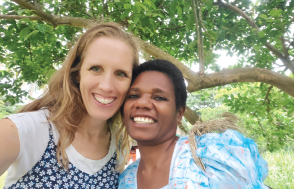 "In traveling, you get to know and love people from other places," Cornish said. "Once you love someone, you are better able to listen to them. . . . It opens this floodgate, and you realize there's a whole world out there, and it's amazing and beautiful."
The couple visited Vanuatu for their first anniversary, and Matt Cornish started learning Bislama. After Cyclone Pam hit the islands in 2015, Matt returned as a medical relief worker with four missionaries from the Church of Jesus Christ along to translate. When Matt returned, Vicki Cornish said, "His Bislama was amazing. The gift of tongues was alive and well."
The couple started discussing a move to Vanuatu. Finally, after their youngest older child had graduated from high school and after the sale of most of their possessions and their home, in mid-2019 the Cornishes and their three youngest children made the move.
Matt Cornish had contacts at Vanuatu's medical training hospital and planned to start a private concierge practice to enable him to volunteer to help train new doctors. They enrolled the children in Port Vila International School and found a rental house nearby. But the practice was slow to start, due to bureaucratic snafus, and the family's savings were dwindling in a country in which milk costs $6 a gallon and most groceries must be flown in.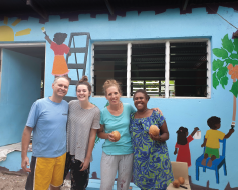 When Kate Cornish's teacher left midyear, after the country's borders had been closed due to the COVID-19 pandemic, Vicki Cornish was asked to take over. It was a rough start on short notice that involved balancing home and school needs, learning a new curriculum, and managing a large class of diverse learners. But Cornish also sees it as another miracle: her children now attend tuition free, and the extra income means they aren't reliant on their savings.
Other miracles happened around the same time and in the same unexpected ways. Cyclone Harold hit Vanuatu hard in April 2020, but the crisis eliminated Matt Cornish's bureaucratic challenges, as the country needed his help with relief work. When Australian friends offered the home they owned to the Cornishes rent free, their current landlord, a French citizen who does not live in Vanuatu, matched that offer.
"We feel like it's heaven helping us have these opportunities that allow me to teach and Matt to keep doing the work he's doing," Vicki Cornish said. "I just know God loves His children. It makes sense to me that if one of His children has this skill or talent to offer, He would say, 'Here, do this.' It's been hard and scary, and I've been in tears multiple times, thinking, 'I don't think I can teach these kids in a way they deserve and be a mom and be a wife and be a person.' And then you get up the next day and you pray, go, and do it again, and you look back and see how far you've come. The scary and overwhelming times end up being the really growing times. They end up being such a tender part of the whole experience."
Vicki Cornish isn't sure how long she will teach beyond 2022; she'd love to go back to working with a literacy program for older students and adult women that she started soon after arriving in Vanuatu in 2019.
"These women want the power of language, the power of knowledge," she said. "Not even to do some specific job, just to be able to speak for themselves."
One rainy Thursday, Vicki Cornish had a literacy appointment with a girl who had had very little schooling. Due to the muddy, difficult conditions, Cornish thought about staying home. But she couldn't get the girl's eagerness to learn out of her mind, so she made the trip and found herself part of one more miracle.
The girl said to Cornish, "You came! I woke up this morning and said, 'It's Thursday, so we'll have our class!' But my mother said, 'No, we won't do the class because it's raining.' Then I knelt down and prayed that you would come. And then you came, because when I grow up, I need to know things so I know what to do for myself."
Cornish said, "And I just kept thinking, 'What if I hadn't come?'"
Written by Stacey Kratz
Photos courtesy of Vicki Cornish