Read Time: 11.5 minutes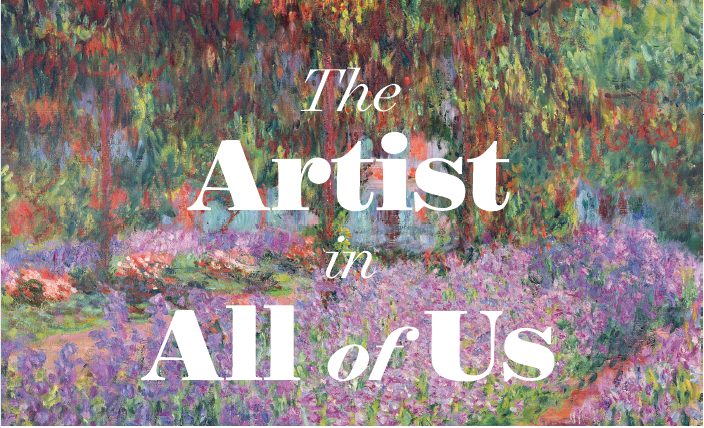 Looking at the Artist
When you think of an artist, who do you picture? A tall, svelte ballerina? A paint-splattered artist? Or a wild-haired, baton-waving, gyrating conductor? In reality, look in the mirror—and you will see an artist! Everyone can become an artist if they have the desire and willingness to explore, learn, and practice.
Consider the impact the arts have on us—affecting our brains and our souls. The arts connect us to others today and to those who have gone before. The arts enrich our lives.

SURROUNDED BY THE ARTS
Appreciating Nature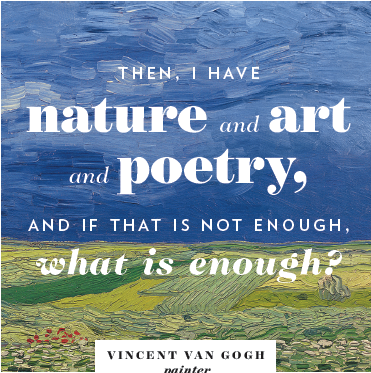 Sharing our love and appreciation for nature is a wonderful gift to our children. Point out the spectacular, inspiring beauty in nature. Observe the patterns, designs, colors, varieties, and rhythms that surround us. Enjoy the striking mountains that pierce the azure sky, view the ever-shifting cloud formations, or take in the expanse of the ocean lapping the coastal shores. Share vivid sunsets, glowing full moons, and the delicate individual details in a single leaf, rock, or honeycomb. Let nature be your inspiration.

Inspired and Timeless Pieces
As we study human civilizations through petroglyphs, ancient tombs, and long-buried artifacts, we marvel at their timeless beauty. The art of ancient Greece, Rome, Egypt, and other cultures continues to inspire designers and artists. Music and literature that have brought peace, joy, or solace to previous generations speak to us today.
Imagination, creativity, design, and functionality infuse our lives and are present in the objects we see and use every day. Creators of buildings or bridges blend beauty with function, as does the fashion designer. Those who created our dishes, light fixtures, furniture, and cars are artists we might not recognize.
BENEFITS OF THE ARTS
Encouraging Critical Thinking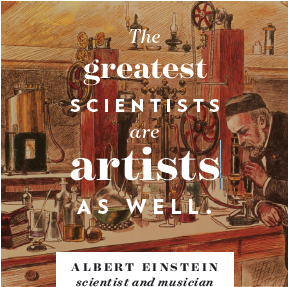 You can learn to think like an artist. The skills, ideas, experiences, and knowledge accumulated in life all contribute to making us who we are, and we see things through our unique lenses. By participating in the arts, we learn to think critically by exploring, examining, reflecting, interpreting, planning, questioning, resolving, executing, performing, and evaluating. The arts provide opportunities to express and share our insights, knowledge, feelings, ideas, and imagination. Allow yourself to learn from art, dance, drama, writing, or music classes; self-help books; videos; and other resources.
Cally Flox, director of arts education at the Center for the Improvement of Teacher Education and Schooling in the McKay School, said, "The arts provide activities for powerful neurological development for children as well as powerful activation of neurological activity in the elderly. Regardless if you are two or 80, the arts support mental, emotional, and physical health for all ages."
Connecting Through the Arts
The arts provide fun, enjoyment, and an enhanced life. Flox said, "The arts connect people through shared experiences, yet [simultaneously] they are deeply personal."
As we engage in the arts with others, we recognize our uniqueness. Each of us has a different story to tell, picture to paint, or song to sing. Share yours. Don't wait for perfection: start where you are and let yourself enjoy it.
Promoting Imagination and Creativity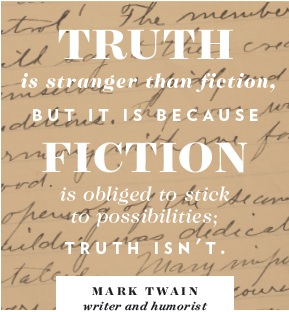 The arts engage our imaginations, expanding our minds and making them more flexible. We gain self-confidence and new insights. Creativity relies on imagination. The Positive Psychology Center at the University of Pennsylvania, which conducts research on why individuals engage in creative works, has found that individuals who are intrinsically motivated tend to be more creative. Thus individuals who engage in creative activities for the sake of the activities themselves—and not for the sake of extrinsic constraints or rewards—are better able to come up with original and valuable ideas.
Author Kristyn Crow said that creating something original is hard work and takes courage. She discussed her recent books—including Zombelina, Bedtime at the Swamp, and Cool Daddy Rat—at the 29th BYU Symposium on Books for Young Readers. She remarked, "It is more than just having good ideas; it requires action. Creativity takes courage because we expose ourselves." She reminded the audience that dreams don't always come true. Our works will be judged and criticized by others. Rejection hurts. So why do we even try? Crow is motivated because innovation brings forth something new and satisfying to the world. You are making a mark on the world. There is enjoyment in the process and the product. There is satisfaction in seeing the reactions of others to your work. She counseled, "Don't let fear stop you from doing what you were meant to do."
What is preventing you from pursuing your artistic interests? Be brave and try.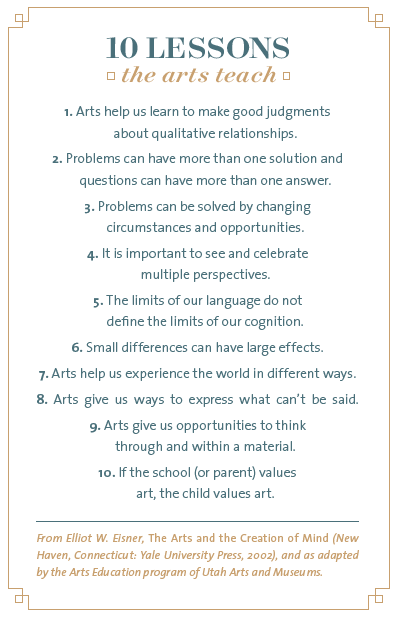 Binding Families
From the lullabies, simple poems, and clever rhymes of childhood, we learn and grow. One teenager posted on social media, "It doesn't matter how old I get; I'm still going to mentally sing the ABCs to see which letter comes next."
Participating in the arts as a family can build unity, enjoyment, and sweet memories of shared experiences. Provide opportunities to develop and share the arts in your family.
THE ARTS ARE FOR EVERYONE
Supporting and Encouraging Young Artists
Encourage the arts and spark imagination by providing a variety of materials for young children to experiment with and explore. Early work may not seem like a masterpiece, but encouragement is part of the process. Reflecting on what might not seem to be working and what needs to be improved—along with perseverance—enhances personal growth and increases knowledge and skills. It takes practice, practice, practice. Practice along with your children.
Materials to Encourage Creativity
Crayons, markers, colored pencils, chalk, watercolors
Different kinds of paper: plain, colored, paper bags, tissue, crepe paper
Scissors, tape, glue, yarn, feathers, etc.
Cardboard, interesting paper and fabric scraps, small objects to create sculptures
Dress-up clothing: dresses, pants, shirts, vests, shoes, jewelry, scarves, hats
Musical instruments: household items, bells, blocks, sticks, tambourines, keys, cell phones
Music for dance: radio, mp3 player, CDs, singing
Designated spaces for dancing, acting, painting, creating
Examples of a variety of music genres
Creative Activities
Create a family mural or poster for a special occasion.
Make Christmas, birthday, or other holiday cards for each other.
Learn to bake and decorate cookies or cupcakes.
Sing and harmonize as a family and/or sing while someone plays an instrument.
Take dance lessons and/or provide them for your children; teach children to dance.
Write your family history and add each member's memories of an event or time.
Make up stories.
Create puppets.
Write plays and then perform them.
Act out your child's favorite book. Use puppets to entertain and tell stories.
Visit museums and go to plays, concerts, and recitals.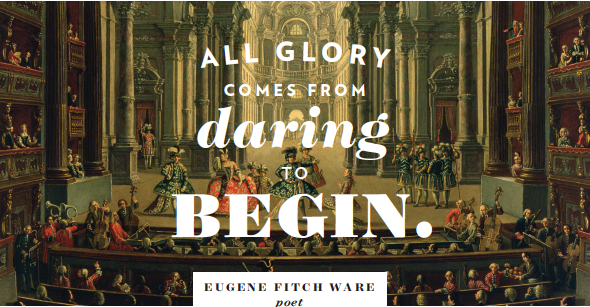 Making Schools Better Places to Learn
In the late '80s, a national longitudinal study showed a significant relationship between academic performance and participation in the arts. Learning to sing the alphabet, dance the water cycle, and act out the Bill of Rights involve both body and brain to enhance learning.
The arts energize teachers. If a teacher is bored, so are the students. After attending an arts program, a burned-out teacher commented that the experience had given her exciting ideas and renewed enthusiasm. She decided against early retirement; there were many ideas she wanted to develop.
The BYU ARTS Partnership offers stimulating hands-on opportunities for teachers to learn, practice, and incorporate the arts into their classrooms. Programs include Arts Express, a two-day, hands-on summer conference; Arts Leadership Series, a three-year program of practical instruction and collaboration; faculty workshops; performances in the schools; and much more.
You can become an advocate for the arts. One woman said, "I can't teach music or art like my friend, but I'm willing to organize events or write grants to bring in working artists." Building collaborative relationships with local businesses and community arts organizations can strengthen the school's creative arts culture. What contribution can you make?

  Arts for Life
Ken Crossley, founder of EngAGE Utah, referenced a multisite national study done cooperatively by the National Endowment for the Arts and George Washington University that found that older adults involved in creative programs have better health, fewer doctor visits, less medication, more positive responses on mental health measures, and more involvement in overall activities. EngAGE Utah is a network of artists, teachers, healthcare providers, and leaders that fosters programs for older adults in wellness, lifelong learning, and creativity.
"Our demographics are changing, and in five years there will be more people over 65 years of age than children under the age of five," said Crossley. As we age, we need social interactions and continued learning to maintain an enjoyable quality of life. The arts provide for both. Older adults can not only develop but also share their talents and skills.
The arts are not for certain ages, for special occasions, or for times when we have nothing else to do. They are for every age, for every day, and for every person. You can learn to become an artist. So grab a paintbrush, pick up an instrument, write the first sentence of your novel, and enjoy!
Written by Shauna Valentine