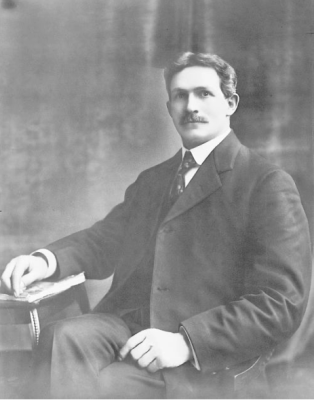 The 2021–22 school year is a major milestone for the McKay School, as it marks the 25th anniversary that the college has borne the name of influential educator, administrator, world traveler, and prophet, David O. McKay. 
"President McKay was, for the twentieth century, one of the most important—if not most important—figures in the church for what he was able to accomplish," says Vance Randall, former educational leadership professor.
The name change was influenced by the college's then-dean, Robert S. Patterson, who "had great love and respect for President McKay and his ideas on teaching and wanted to expose the faculty in the College of Education at the time to have greater appreciation" for them, Randall explains.
"In naming the college after President McKay, here we now have a model, an exemplar, for new faculty to follow, and, for those majoring in education . . . a really great teacher to model their teachings and their life after," Randall says.
President McKay honored and valued education throughout his life. When he was a young man, his family sacrificed to ensure he and his siblings received a university education. He attended Weber Stake Academy (Weber State University today) for two years before beginning his career at a grade school in Huntsville, Utah. In 1894, McKay traveled by wagon from Huntsville to Salt Lake City to complete his schooling at the University of Utah. He graduated in 1897, after playing on the school's football team, serving as class president, and being selected as valedictorian.
In 1899, after serving a mission in Europe, McKay began teaching at the Weber Stake Academy. During this time, he courted Emma Ray Riggs, who was also a schoolteacher. During their courtship, McKay wrote Emma many love letters where he declared, "I feel thankful that I know what pure love is, and that the person whom I love is the truest, sweetest girl that lives." They were married in the Salt Lake Temple in 1901. Shortly afterward, McKay became principal of Weber Stake Academy.
McKay's background in education allowed him to improve the Church's Sunday School system, and he quickly advanced through the ranks of Church leadership. In 1906, at the age of 32, he was ordained an apostle of The Church of Jesus Christ of Latter-day Saints. 
Despite his administrative and ecclesiastical responsibilities, McKay remained an active part of students' lives. He felt education was important for both sexes and worked to increase female enrollment during his tenure. He taught his staff to establish teaching objectives and develop lesson outlines. 
McKay traveled widely, experiencing firsthand many of the world's diverse cultures. In December 1920, McKay and a companion embarked on a 12-month tour to visit every Church mission and school around the world. He visited children of God attending schools on islands, in highly populated cities, and across rural countryside. 
McKay was called as prophet in 1951 and served until his death in 1970, making him one of the Church's longest-tenured leaders. During his time as prophet, the Church opened 35 international schools and founded BYU–Hawaii. 
To celebrate the renaming of the School of Education, BYU held the first annual David O. McKay Symposium on Education. Dean Patterson asked Randall to organize the symposium, which was open to anyone interested in education. "It was a privilege to be a part of [it]," Randall says. 
Students, faculty, and community members alike enjoyed the opportunity to learn more about McKay's legacy at the two-day symposium, which included presentations, a video of his life, words from his living children about McKay as a father, and interviews from each of the living general authorities whom President McKay had called during his time as prophet. 
More than two decades later, the McKay School continues to emulate President McKay's vigorous work ethic and love of teaching by providing students with a quality education that prepares them to lead and love in classrooms all over the world. 
It is significant, Randall says, that a prophet of the Church as esteemed as David O. McKay lists "teacher" and "principal" as major professional accomplishments. His background in education helped him become a lifelong learner and gospel teacher. Carrying President McKay's name is a reminder that educators can and do make a difference in the world. 
Writer: Amy Cook
Contact: Cindy Glad