Read Time: 4 minutes
Laura McAllister, class of 2008, 2016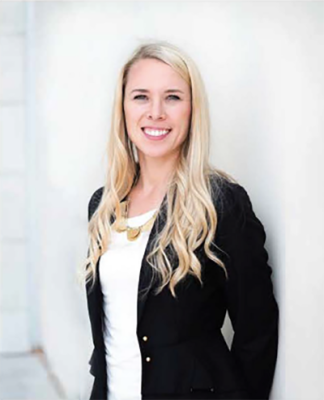 Laura McAllister's grandmother dropped out of middle school to support her fam­ily financially, and another grandmother graduated with a bachelor's degree in the early 1900s. McAllister grew up knowing the value of an education.
Drawn to the field of education, she earned her bachelor's degree in elemen­tary education from the McKay School of Education at BYU in 2008, a master's degree at Southern Utah University in 2014, and another master's in instruc­tional psychology and technology, also from the McKay School, in 2016.
During the eight-year gap between earning her bachelor's and two master's degrees, McAllister taught second grade in Utah's Nebo School District for six "unforgettable" years.
McAllister's top priority was help­ing students feel welcome, safe, and confident. For example, she befriended a new student who had switched schools because of behavioral problems. "We set daily goals and created a private chart to track his behavior. We came a long way, but the next year I felt the success of my efforts when he would stop by my class­room every day after school and tell me how he was doing in his progress with his current teacher and class," recounted McAllister. This experience increased her desire to do more to help students and improve educa­tion on a broader scale.
McAllister's personal belief is that "the best teachers are the best learners-constantly seeking to expand themselves." So it was natural that she took advantage of an opportunity to earn a master's degree in education through a program offered by Nebo School District in partnership with SUU.
McAllister earned a second master's degree at the McKay School in instructional psychol­ogy and technology. While attend­ing graduate school, McAllister interned, participated in, and worked at places that prepared her for her current position as a BYU online courses administrator.
Interning in Washington, DC, at the Department of Education's Office of Educational Technology, McAllister worked with McKay School alumni Richard Culatta and Joseph South and heard stories that encouraged her to pursue a teaching position cen­tered around technology.
"It was inspiring to hear about rural school districts whose students' homes did not have internet access. Companies would team up with schools to wire a bus with Wi-Fi and park it in a neighborhood so students could do their homework at home or on the bus ride home," described McAllister.
She implements the skills learned in her past experiences as a BYU online courses administrator. "I am respon­sible for the professional development of online teachers and teaching assistants. I hire and train new on line TAs in Canvas, Adobe Connect, Zoom, and online teach­ing best practices. I also work with teachers to troubleshoot any technical or logistical complications they may encounter."
McAllister encourages students going into the field of education to take advantage of "any and all opportunities to learn and grow personally and profes­sionally" and to invest in their own edu­cation. She has provided a great example.