Read Time: 2 minutes
Students and teachers who believe in their abilities to overcome challenges and to achieve their goals—in other words, self-efficacy—make their schools better. Those are the findings of research by Megan Tschannen-Moran, PhD, a professor of educational leadership at William & Mary School of Education. Tschannen-Moran was invited by the McKay School's Department of Educational Leadership and Foundations to deliver the 2022 Benjamin Cluff Jr. Lecture.
This was the first visit to BYU by Tschannen-Moran, who is revered for her influential research, publications, and career in education.
Pamela Hallam, EdD, EdLF department chair, introduced Tschannen-Moran. Hallam expressed that it was a great honor to introduce Tschannen-Moran, as she had been named "among the 20 most influential scholars in the field of school leadership, based in part, by the number of citations in the field of educations." Hallam joked, "I am pretty sure that the number of times I have cited her work in my own research has significantly contributed to that number."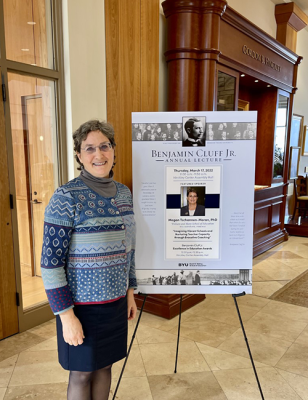 In her lecture, Tschannen-Moran stressed the importance of self-efficacy and its role in teaching and learning. High levels of self-efficacy promote creativity and curiosity, which encourage students to seek learning outside of school. Students increase their self-efficacy by experiencing success, seeing success happen to those around them, and receiving positive feedback and encouragement. Self-efficacy is also important for teachers, who become more patient and encouraging with their students as they practice self-efficacy, thus creating a more positive learning environment. "This is pretty important, especially with our novice teachers. We want to set them on the path of increasing self-efficacy."
Tschannen-Moran's research shows that, as teachers learn about and cultivate self-efficacy within themselves, they pass those characteristics on to their students.
Writer: Rebecca Youngs (adapted from "Self-Efficacy is Crucial to Student Performance" by Morgan Keller)
Contact: Cindy Glad