Read Time: 3 minutes
Teaching Experience Comes in Handy for COVID-Era Home Schooling in Tennessee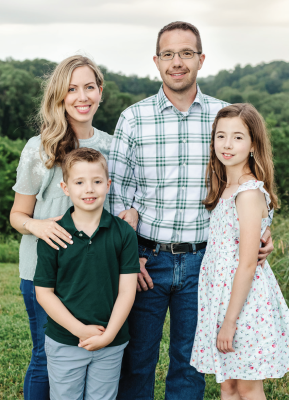 Gretchen Killingbeck ('02) had always said she would "never homeschool in a million years" because she has seen the many advantages a classroom environment can provide children. Her children are in Tennessee's Williamson County School District, which is known for high-quality education. However, with the uncertainty surrounding public education during the pandemic, Killingbeck decided to homeschool her two children for the fall 2020 term.
Luckily, she has had plenty of experience. While completing her bachelor's degree in elementary education from the McKay School, Killingbeck student-taught at Provo's Franklin Elementary School. She and her husband Seth then moved to Atlanta, where she taught a second-grade inclusion class—made up of both special-education and general-education students—for three years while her husband attended law school. When they moved to their current home in Franklin, Tennessee, she taught first grade for three years. No longer full time, she "stays a part of that environment" by serving as a substitute teacher.
Since starting home school, Killingbeck says she's come to understand its benefits. For one, there is much less 'downtime' waiting for everyone to be on the same level of understanding, or even to open books to the right page. Plus, homeschooling provides enhanced opportunities to tailor children's lessons and learning to their personal interests.
Of course, Killingbeck was not alone in embarking on a homeschooling journey this year. Friends in the Williamson community now frequently request her advice on education. Multiple parents have asked, "What are some of the things you're doing? . . . Tell me how you're breaking down your day." She often shares the schedule she created for her children, as well as the online resources she uses. "I still have big, huge Rubbermaid tubs in our basement of all my teaching resources, and so I lent out a few things," Killingbeck adds. She has also taken advantage of learning opportunities and landmarks nearby during weekly field trips.
While her experience with homeschooling has been helpful and eye-opening, Killingbeck's children plan on returning to in-person schooling. "This semester has been a really good experience for me, learning how to homeschool and realize I can do it if I need to," Killingbeck says. "And being able to kind of dust off some of those teaching resources. . . . [I'm] just extremely grateful that I had that background in the first place."