Read Time: 10 minutes
McKay School Alumni Achievement Award Winner 2019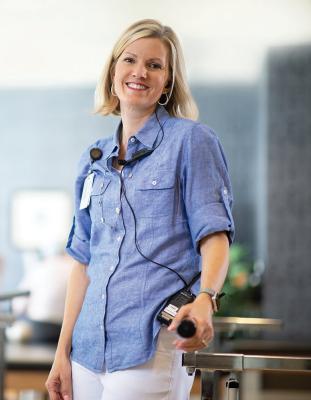 Sarah Scott's warm and engaging smile draws you in when you first meet her, and her manner is relaxed, friendly, and professional. She is the speech-language pathologist at Pointe Meadows Health and Rehabilitation, a facility in Lehi, Utah, that provides skilled nursing along with short- and long-term therapy.
The same warm and relaxed feeling prevailed as we passed through the halls and observed the gathering places, therapy and gym area, and resident rooms—collectively exuding a home-away-from-home vibe.
Scott received the McKay School of Education's 2019 Alumni Achievement Award. She was honored by the BYU Alumni Association and the McKay School during the 2019 Homecoming Week. During her presentation to the McKay School, she shared her personal story and passion for her work in speech-language pathology and for the people she serves.
At Pointe Meadows, she and her colleagues have created a safe, comfortable, and healing environment. Individual and group therapy is ongoing, and because they believe personal interactions can improve the quality of life, residents are encouraged to leave their rooms during the day and mingle. As we encountered people, Scott greeted residents and staff with a touch on the arm, pat on the back, or "Hola, Eula," and "Hey, Jane, how are you doing today?" Normalizing situations for patients by treating patients and staff as she treats her friends is one of her priorities.
Collaboration on occupational, physical, and speech-language therapy is paramount. Whether the patient's situation is acute or chronic or whether they are dealing with an orthopedic issue, cancer, or a neurological condition, the professional team helps individuals to better do those things that they need to do to live their best life possible.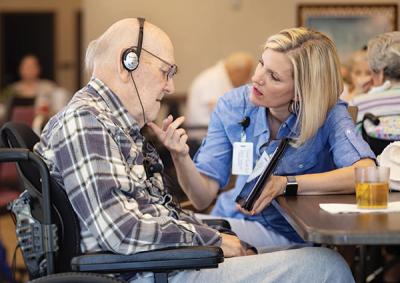 Zach Brown, executive director, said, "Speech-language pathologists see things that we can't see. It takes heart. Sarah will evaluate patients and many times find something that was missed." He explained that the team needs a trained eye that is looking for different things—conditions that may show up in talking, swallowing, or chewing. It is a different perspective.
"See people as people," said Scott. "It is more than fixing the physical problem. Maybe a person needs support or encouragement. We need to figure that out." When trying to improve physical conditions, she explained, many patients make progress when social connections and expressions are fostered.
Scott's Journey
Scott was born in Brazil, where her father was a mission president, but grew up in New Jersey with her five siblings. After three years at BYU, she married, moved to Michigan, and later found herself as a single mother of three boys. Knowing she needed to support and provide for her family, she returned to Utah to continue her studies at BYU. Her oldest son has medical needs in addition to behavioral and language impairments. Being able to live with her parents provided loving support for all of them when she returned to school.
Scott is indebted to a seasoned and skilled counselor at BYU who spent time talking with and getting to know her as she was considering her options. He asked about her background and interests. During these discussions she shared her experiences of time spent with her son in special education classes. The counselor asked if she had ever thought of speech pathology. It made sense to her, and she forged ahead with the goal of completing her bachelor's and master's degrees in five years. She remembers it as a challenging, intimidating, and stressful time but, at the same time, was strengthened by knowing that the Lord would help her.
During her undergraduate studies she remarried and inherited two daughters. And life changed. She said, "An incredible challenge and opportunity became a catalyst to huge growth. I loved every second of it."
While studying with Professor Christopher Dromey in the Department of Communication Disorders, Scott wrote her thesis, which was eventually published in the Journal of Speech, Hearing and Language. "[Dromey] is probably the smartest person I know but also one of the most real. He has great passion and personality. There were many other teachers also who were so helpful with their acts of kindness, their understanding, and the sharing of their insights and knowledge," she said.
Scott's plan was to work in the public school system. However, her fascination and interest in her medical classes led her into health care. Her first position at a skilled nursing facility launched her early on into leadership positions. Along with speech-language therapy, she led education and support groups.
After three years she was approached to be the director of rehabilitation at a hospital that specializes in neurological degenerative diseases and dementia. Accepting this position was another opportunity to stretch and learn. Her mantra became "See each individual as a person, not a problem." She saw lives change as she continually asked, "Why is this complication or situation happening?" The detective came out in Scott as she found each case had its own nuances and deserved asking the "why" question. Her aim was to solve the problem and get it right the first time so the problem didn't reoccur.
Serving and Advocating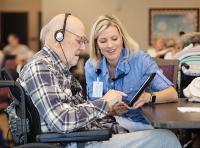 One of the things Scott loves about speech pathology is the wide range of challenges she encounters. Her favorite areas of practice include swallowing and cognitive linguistic function. Being a conscientious advocate for patients, she said, "You can't have a bad day when you work around people. It can't be about me but all about them."
With her diverse experiences, she is an effective mentor as she supervises students—including two graduate clinical students completing their medical practicum in communication disorders. Schooling and experience have blended. She said, "At BYU I received a technical and moral background to deal with many emotional and physical afflictions that patients young and old have presented in my practice."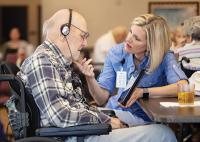 Scott's devotion as a mother extends beyond her five children and the goddaughter she helped to raise. Dealing with autism, chronic health problems, and other challenges has given her compassion for those who suffer. Children with special needs have been drawn to her and her family and have become part of the Scott family life. Some have been invited to live in her home, where they received the understanding, love, and structure they needed.
Balancing family and work is a challenge, but including her family in her work or inviting outpatients to interact with her family through activities such as game nights is how she brings the two together. Volunteering and advocating for children and adults with special needs continues to fill her time and her home.
As a lover of the outdoors and nature, and having had her own health challenges, she appreciates being strong and well. Trying to do everything as she thinks it needs to be done is hard, but her philosophy is to let go of whatever is bothering her. She counsels, "Move on. Do your best. And many times your best is better than you think it is."
When asked what she would tell others working in communication disorders, she said, "Remember to see everyone as unique and valuable. Build people up and give them what they need to succeed. Ask intelligent questions and dig deep to get to the heart of the matter and be willing to give and receive information to direct your choices. Love people and care for them. Do what you do for the people you are serving. It changes lives."
For more on Scott's Alumni Achievement Award address, visit education.byu.edu/alumni/alumni-awards-2019.
Written by Shauna Valentine
Photography by Bradley Slade