Read Time: 3.5 minutes
Alumni Happenings
Delaina Tonks, classes of 1993 and 2018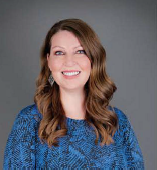 During DeLaina Tonks's 26 years in edu­cation, she has seen classrooms transi­tion from having overhead projectors to
having collaborative digital whiteboards that students can now post on remotely.
Tonks graduated from BYU in 1993 with a bachelor's degree in French and Spanish teaching. She later received a master's degree in second-language acquisition from Ohio State University. In 2006 Tonks moved back to Utah, where she has had the opportunity to be involved with education on many different levels. She has served as the Draper City Youth Council advisor, a State Charter School Board member, an Association of American Educators board member, and a legislative district chair, among other roles.
Tonks is currently the principal at Mountain Heights Academy, a public, online charter school that she helped design. Mountain Heights Academy is the most highly rated accredited online char­ter school in Utah. It offers an alternative to the traditional brick-and-mortar school for grades 7–12 and allows students to cus­tomize their education according to their needs. Tonks is also currently earning a doctorate in instructional psychology and technology from the McKay School and will graduate in 2018.
Tonks did a teaching internship and had her own classroom in 1991. Of that experience she said, "I would come home with overhead marker smears on my forearms and chalk prints on my back."
Rather than giving teachers text­books and videotapes at the beginning of the school year, Tonks now gives her teachers laptops, access to a learning ­management system. and an open educational resource curriculum that they can adapt to meet individual student needs.
"Know your tech! Today's teachers, whether online or in a brick-and-mortar school, will be better teachers if they can leverage technology for curriculum, data, and student engagement," says Tonks.
Tonks also suggests that online teaching positions are flexible and can be a great "best of both worlds" for those who are interested in having a profes­sion and raising a family.
For those going into education, Tonks recommends cross-certification in two subjects to be more marketable. She also suggests staying up to date on the posi­tions that are suffering from a critical shortage, such as guidance counselors, special education teachers, and STEM teachers. Adding one of those certifica­tions to a major can increase your versa­tility and marketability.
The last bit of advice that Tonks shares is to keep "home" in your sights. "The reason we are here is to return to our heavenly parents and to help others find their way home too," she says. "This can be accomplished in our families, in our professions, and in our communities."