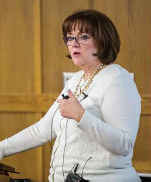 Read Time: 2 minutes
In an effort to increase students' aware­ness of sexual trauma resources, the McKay School invited
the College of Nursing to join in sponsoring a student event with BYU sexual assault survi­vor advocate Lisa M. Leavitt. Men and women faculty, staff, and students from various parts of campus filled the McKay School auditorium.
"The whole definition of sexual assault is without consent," Leavitt stated. "Consent is required by law."
Consent is described as a clear yes­—enthusiastic, freely given, not assumed, and ongoing.
Consent is a vital part of any relation­ship, whether it is in dating, marriage, or any other type of committed relationship.
"When we talk about 'no means no,' we are putting the entire responsibility of whether a sexual act happens on the recipient," Leavitt remarked. "We are taking away any responsibility from the person who is asking for it."
Leavitt described the healing process in six steps:
Reframe what happened.
Prepare for flashbacks and upsetting memories.
Reconnect to your body and feelings.
Stay connected to family and friends.
Nurture yourself.
Seek professional help.
At BYU there are multiple avenues for survivors seeking help. There is the victim advocate office, law enforcement, Title IX, rape crisis centers/hotlines, BYU Counseling and Psychological Services, Women's Services and Resources, and Utah's Victims of Crime office.
Hope, healing, and help can be found in these campus resources. A knowledge of these available resources can make a difference.