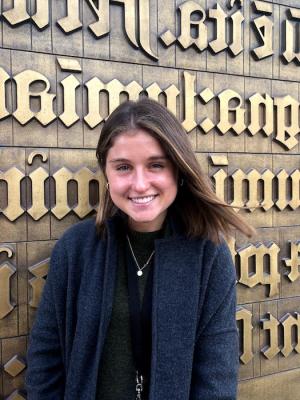 International relations graduate Emily Ostler has learned, worked, and served around the globe, from Tanzania to China to Myanmar. As a recent BYU grad, she will continue her journey at Harvard University. But rather than focusing solely on international relations, Ostler has expanded her focus to include religion and education, a choice partially influenced by a class offered by the McKay School of Education. 
Ostler first became interested in international relations while attending Cottonwood High School, a Utah school with a large refugee and immigrant community. "I had friends who had carried their little siblings through the jungles of Burma or who had fled with their families from Iran," she said. "Working with the refugees at my high school, I became involved in global issues, and it was hard for me to continue living normally when I felt like those issues had dug so deeply into my heart. So when I came to BYU, I knew I wanted to work with those issues." 
As Ostler began to work with those issues at BYU, one of her most eye-opening classes came from the McKay School. Introduction to International Development Education, taught by assistant professor Donald Baum, gave Ostler a framework for approaching change in international education.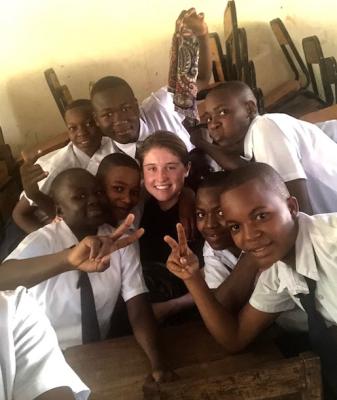 The opportunity to implement change would come sooner than she anticipated. During that same semester, Baum recommended Ostler for a project that would evaluate the effectiveness of  RACHEL (Remote Area Community Hotspot for Education and Learning) servers—wireless databases with academic resources such as Khan Academy and Wikipedia—in Africa. Theses servers are used in schools without internet access, but certain barriers, such as lack of teacher training, have often prevented them from being used effectively. With her team, Ostler would have to devise a replicable, cost-effective way to deliver the servers and show teachers how to use them. 
To finance the project, Ostler and her partners arranged fundraising projects through the Ballard Center, applied for grants, and organized several GoFundMe campaigns. They also found volunteers from the Open University of Tanzania to train teachers on how to use the RACHEL servers. "We felt like we—as white Americans—should not be going to teach these teachers how to use the material because we wouldn't know what sort of barriers they're facing," said Ostler. "We don't speak Swahili. We didn't know what computer knowledge they already had. And so we wanted to remove ourselves from the equation as much as possible."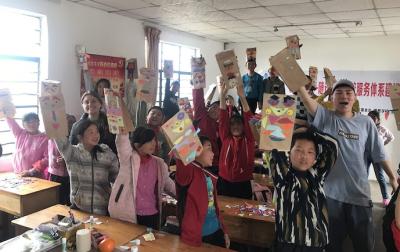 In January 2018, Ostler traveled to Tanzania to oversee the servers' arrival and to coordinate between the school, the Tanzanian volunteers, and the NGOs who helped fund the project. She had difficultly both acquiring permission to ship the servers and communicating with a remote school, yet these challenges only motivated her to work harder. 
"I've been studying disparities in education, but seeing them was really powerful," said Ostler "Being in the school with those kids was an incredibly enriching experience. It made all of that difficulty more than worth it and motivated me to continue in this field of work. Those kids have the same types of dreams and visions like kids here do—they just lack the resources to pursue those things. And if I could help kids and adults to pursue things that are meaningful to them, I think that would be incredibly rewarding."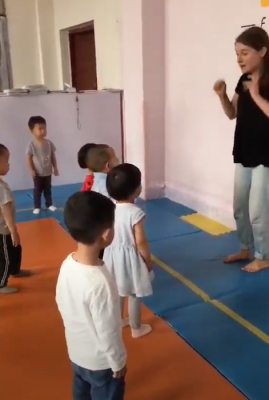 Ostler's travels didn't stop there. Wanting to improve her Mandarin, she traveled to the Yunnan Province in Southwest China her senior year. While there, she studied the merits and disadvantages of China's education system; she also compared how migrant children, rural children, left-behind children, and ethnic minorities performed in the system.
That same year, Ostler spent several months as an intern at the United States Embassy in Myanmar. During her internship, she studied the role of Buddhism in education and government policy. Learning about Buddhist nationalism and the Rohingya genocide ignited something in Ostler. "This is where I finally decided to study religion," said Ostler. "The West is pretty secular, but a lot of the world isn't . . . and I felt like if I really wanted to engage with these countries and promote things that we both value and [that] are going to promote the well-being of the world, then I needed to understand their religious backgrounds."
This fall at Harvard, Ostler will continue studying the intersection of education, religion, and international development as part of a master's in theological studies and politics. "I saw a lot of threads intertwining a lot of different issues, especially with refugees and displacement and violence and . . . ethnic minorities. And I want to understand how those can work together and how to address those sensitive topics in productive ways." Her ultimate goal is to "act as a bridge between academia and development organizations and government."
Want to catch up with the EdLF department? Find out how EdLF faculty and staff are reacting to COVID-19 and preparing for the upcoming semester.
Writer: Emma Smith
Contact: Cynthia Glad 801-422-1922