Read Time: 5 minutes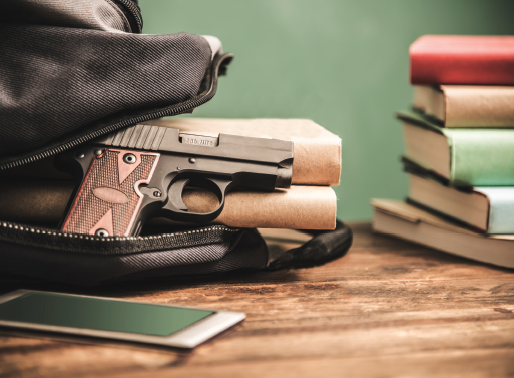 On December 14, 2012, a gunman entered Sandy Hook Elementary School in Newtown, Connecticut, and proceeded to kill 20 children and six adults. Following this horrific event, an important discussion ensued focused on increasing school safety and, ultimately, identifying actions that could be taken to ensure something like this never occurred again. One of the solutions discussed was the arming of school district employees with firearms. The call to arm school district employees was reiterated following the mass shooting at Marjory Stoneman Douglas High School in Parkland, Florida, on February 14, 2018.
The subject of weapons, in general, and weapons in school, specifically, is fraught with deep-rooted opinions. As a researcher, I determined to empirically study this school safety measure with an array of different colleagues in an objective manner. My aim in researching this topic is to collect data that can influence policymakers and practitioners considering adopting a potentially controversial safety measure. Over the last nine years, I have joined with colleagues and published four empirical studies and one book chapter on the subject. Here are a few of the more salient lessons from these research efforts:
Response Time: For a vast majority of school districts in the United States, the typical law enforcement response time—or the time it takes to get to a school—is less than five minutes. However, for geographically isolated and rural school districts, response time can exceed 30 minutes. This finding suggests that the potential appropriateness of arming employees varies from school district to school district.
Training: Professional police officers receive extensive annual training focused on handling firearms and related skills necessary to address armed intruder situations. And, despite all this training, police make mistakes. Principals, superintendents, and police chiefs have raised concerns with the idea of putting a firearm into the hands of a school district employee who may not have received the same level of ongoing training.
Costs: There is a perception that arming school district employees is a cost-neutral school safety measure. However, our research has identified two categories of costs: initial/one-time and ongoing. While actual costs depend on a number of factors, we estimated that, nationally, it would cost between $974,000 and $1.2 million for the first year and $636,000 to $976,000 each subsequent year.
Liability: There are a multitude of risks associated with bringing weapons into schools, as exemplified by the following questions:
What if a weapon is improperly stored and a student gains access to it?
What if an employee with a firearm, while responding to a threat, accidentally harms or kills an innocent bystander?
What if the armed employee has a negative interaction with a student and uses the firearm inappropriately?
These types of hypotheticals are endless and pose potential liability risks for school districts.
Safety: What is not clear in all this research is if schools are safer places with armed employees. Statistically speaking, the likelihood of an armed intruder entering any one school is incredibly slim (it will happen once every 6,000 years per school), and certain safety measures, such as arming employees, have been shown to negatively impact students' perceptions of a school's overall safety.
We continue to explore this topic from a number of different aspects. Again, our hope is not to share our own views on this controversial topic; instead, we seek to provide policymakers and practitioners with empirical data that can inform their decisions as they seek for ways to increase the overall safety of America's schools.

Spencer Weiler, '00, was a high school teacher and an administrator before pursuing academia. He holds a PhD from Virginia Polytechnic Institute and State University. He taught at the University of Northern Colorado for more than a decade before joining the McKay School in 2019. His research focuses on subjects from leaders' responses to pandemics and other "outlier" situations to the topic discussed in this piece. He strives to help students become "outstanding administrators who rely on the teachings of Christ and work tirelessly to support the learning of all students."