Read Time: 12 minutes
The McKay School's Autism Research Group
Weekly meetings of the BYU Autism Connect research group fill the McKay School's biggest conference room with activity.
Amidst the laptops, fruit, breakfast breads, and hot chocolate, researchers pore over databases and scrutinize brain scans. Statistics are shown in various formats on a large monitor for all to examine. They coordinate current projects and then strategize about what research would be best to tackle next.
And they always worry about the kids. Sometimes a clinical situation is just so human that the room gets quiet, as when Mikle D. South, associate professor of psychology and neuroscience, plays a voice message of a distraught 10-year-old boy with autism spectrum disorder (ASD). "How will things ever get better? . . . There's just something wrong with me, Mom. I'm just broken," the boy says. That's when they all remember autism's harsh toll on individuals and families.
"We have one goal for autism research here at BYU: we want to make the lives of families better. Autism will eventually touch almost all families in some way," says Terisa Gabrielsen, PhD, assistant professor of school psychology, one of the McKay School's lead researchers on the team.
The Centers for Disease Control and Prevention (CDC) estimates that one in 68 children in the United States has some form of autism spectrum disorder, which is marked by "persistent impairment in reciprocal social communication and social inter-action . . . and restricted, repetitive patterns of behavior, interests, or activities," according to the American Psychiatric Association (DSM-5). The rate of boys who have autism is almost five times that of girls who do. The team is investigating underdiagnosed females to bring more awareness to their unique issues. This group is determined to do what they can to minimize the impact of autistic symptoms on the lives of families.
So then it is back to the research discussion. Heads are nodding. They are all seeing the clustering of data highlighted in a statistical box plot. "This is an exploratory study, but we are seeing some very interesting patterns in the data," says Shannon Neeley Tass, the team's statistician. The group is studying aggression in individuals with ASD. They see signs of a possible correlation between brainstem size and aggressive tendencies.
"If we can discover more about the brain and behaviors that can be disruptive to learning and family life, we hope to develop early interventions to keep these problems from escalating as children get older," Gabrielsen continues.
This study is part of a larger aggression research agenda. The McKay School group has analyzed data from magnetic resonance images (MRI) in a database shared with the University of Utah. The two universities have conducted a large longitudinal study over the last 10 years. The team is also looking for treatment protocols for aggressive behavior and assessing the effectiveness of interventions through meta-analysis.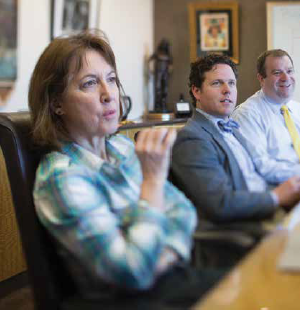 Many Disciplines, One Team
Started with McKay School seed money in 2013, the research team is now 15 members strong across several disciplines. Six are from the McKay School; others are from psychology, statistics, molecular biology, physiology and developmental biology, BYU's Counseling Center, and the BYU MRI Research Facility. This cross-discipline approach allows the group to use their diverse skills to broaden the scope of possible research areas. Well-established scientific investigators, new faculty, and students work together and collaborate with others at universities throughout Utah—including the University of Utah and Utah Valley University—and internationally in Europe and Asia.
"This type of research group is something that our mentor, Erin Bigler, has been hoping would happen," says Gabrielsen. "But it never came together until the McKay School granted the group initial funding to establish a web presence, create a shared database, and pay student research assistants. That funding is running out, so we have been working on several projects and have applied for multiple grants with our institutional partners. Our group is also seeking the attention of private donors, foundations, and families who need help."
Urgent but Painstaking Work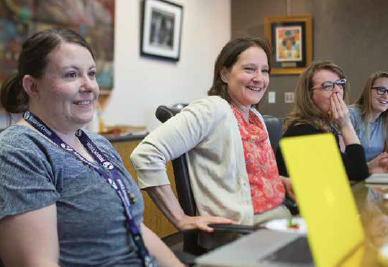 Even with this sense of urgency, the work is often painstakingly slow—like getting a child with autism and not very much language skill into an MRI machine. Such a child might be afraid and uncooperative if an unfamiliar researcher simply asks him to get into a strange and cold MRI machine.
But the images could prove very valuable. Not much data exists on low-functioning individuals with autism because many children with autism need to be sedated to cooperate with such procedures, making a functional MRI impossible.
So the varied skills across the research team are put to work in "The Brain Shop." First, the child is shown a team-created video modeling another child having an MRI. Then a psychology professor and graduate student calmly work to get the child comfortable wearing a practice helmet and lying very still on a table. Behavioral techniques are used to gradually teach the child about the movement of the MRI table into the machine and that it will be all right to be inside the machine. Finally, the reassuring hand of a parent reaches into the MRI bed to help the child through 45 mostly still minutes. The sessions aren't always successful, but the resulting images will be studied and lessons learned will be shared.
"We are already moving in the direction of finding ways to look at brain function in children with autism and low-language levels, and technology is catching up to us to reduce the problems caused by movement in the MRI scanner. Because we are ready to go forward, we may be the first to report on the results," says South.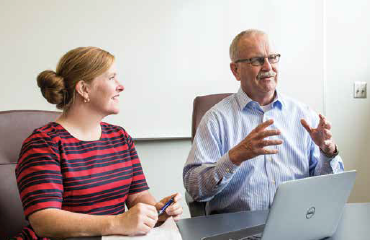 Research that Is Making the Lives of Families Better
Gabrielsen's research showing that the typical pediatric exam observation of 10 to 20 minutes doesn't provide enough information for an autism diagnosis garnered a lot of attention in 2015 when a top journal included her work. She encourages parents to be assertive about their concerns.
Blake Hansen has done research in Kosovo, Bosnia, and Albania to help parents work effectively with their children who have autism and developmental disabilities. The Bosnian study also includes a strengths-based assessment to design more effective interventions.
Gabrielsen and Hansen are working on Early Start Denver Model certification, which will qualify them to work on early intervention research. They are particularly interested in work with fathers and in inclusive preschool settings.
South is leading a study of adults in London and Provo about how people with autism understand emotions. He has cohosted two special interest groups at the International Meeting for Autism Research in Baltimore, Maryland, this year.
Jon Cox and Shannon Neeley Tass, along with psychology graduate student Emily Anderberg, have just completed research showing that students with autism who visited the BYU Counseling Center over the last 20 years benefited from their treatment as much as their peers without autism, but that it took almost twice as many sessions to accomplish these results.
Rebecca Lundwall recently received the Marjorie Pay Hinckley Research Award in Social Work and the Social Sciences, the college's largest cash research award. She is working on a project that could potentially identify early risk factors for autism by looking at perseveration—the tendency to do things over and over again.
Faculty and graduate students' work has been accepted at a growing number of national and international conferences on autism and within their respective disciplines, and team members regularly partner on research around the world.
The team has studies running in the north of England and in the Netherlands about how anxiety might be different for people with autism. A current study of how to measure anxiety in people with autism includes data from nine universities in five countries—Singapore, England, Australia, Wales, and the United States—including research partners at Marquette University and Stanford University.
Four team members from the McKay School's special education and school psychology faculty are working on a series of papers generated by the aggression intervention meta-analysis project.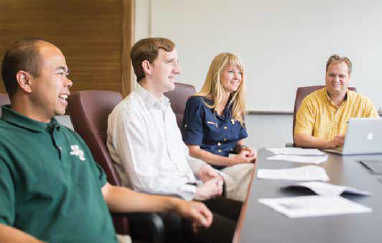 Sharing Knowledge
All of this research is rushed to practitioners and families through journal articles, conferences, workshops, outreach programs, and a website.
The third annual BYU Autism Translational Research Workshop was held in January. Presenters were drawn from the research group and partners at other institutions. Each year the attendance has grown, starting at 150 in 2014, 190 in 2015, and topping 300 this year. Workshop participants have traveled from Michigan, Hawaii, Idaho, and other places to attend. Around 50 others joined online this year from other states. Next year's workshop will likely expand to two days to accommodate requests from the community for training in treatment for autism spectrum disorders.
Road trips take team members and students to smaller communities around Utah. Faculty and students from partner institutions join the group to teach practitioners and families about the most up-to-date research on screening, early identification, and early interventions. Last year they taught in Ogden, Salt Lake City, Provo, Price, Moab, and St. George.
The website BYU Autism Connect, found at autism.byu.edu, serves many purposes. It provides a list of helpful resources for the professional community and for families who are concerned with autism. It is also a place for families to register to participate in research opportunities. Then researchers share data to streamline participation with those families.
Members of the team also consult with insurance companies to help determine necessary services for families affected by autism. Some also work with special needs policies for The Church of Jesus Christ of Latter-day Saints and various community organizations. Team members are responding to more and more requests for media interviews.
It is all a part of passing on the research to the community as quickly as possible. The team is adding to the discourse, find-ing connections, and putting the pieces together. With each scan and analysis, the team is slowly and methodically making the lives of families affected by autism better.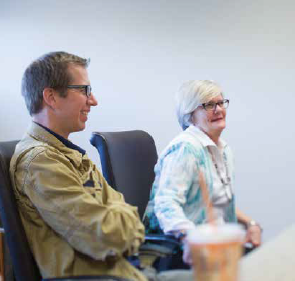 How Can You Help?
Everyone can help! The team needs people of all ages with and without autism spectrum disorders to register to be contacted for current and future research. The location doesn't always matter, so people from anywhere are welcome.
Registering helps researchers find people to participate in research projects to discover answers to questions about autism and how it affects families. Registering also helps families connect to research projects and news that may benefit their own family and others. Learn more at autism.byu.edu.
Written by Cynthia Glad
Photography by Bradley Slade