Read Time: 7 minutes
Image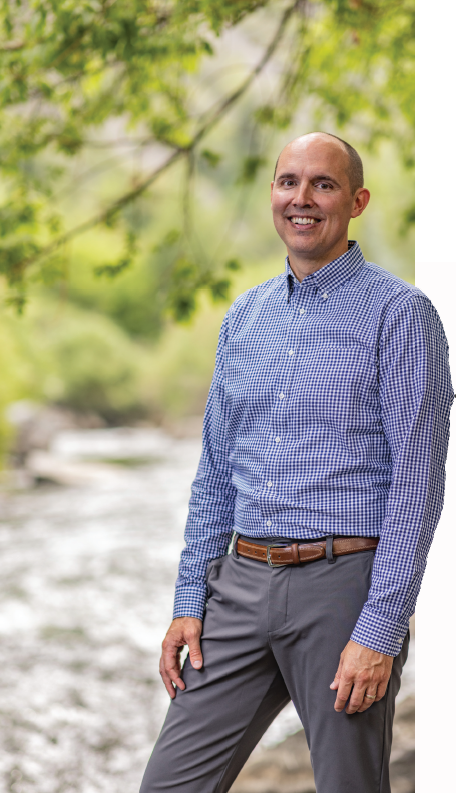 The Persian poet Rumi once wrote, "When you do things from your soul, you feel a river moving in you, a joy."
Richard Osguthorpe has found joy in all sorts of pursuits—and on all sorts of rivers. Although he didn't know it, his voyage through life and his efforts to explore and promote the moral work of education would lead him back to where he started: the McKay School. He became dean in July.
Though he spent most of his career elsewhere, Osguthorpe is an Orem native with deep roots in education and at BYU. His mother, Lolly, is a BYU elementary education graduate who taught for many years in Provo schools, and his father, Russell, served as a distinguished member of the McKay School faculty, retiring in 2013. Osguthorpe has fond memories of his father's career, though the earliest ones aren't very academic.
"At one point he had an office underneath the football stadium," said Osguthorpe, a passionate fan of BYU sports. "We got to go to the office with Dad and kick field goals out on the field on Saturday mornings."
Eventually, though, Osguthorpe's heart was captured by teaching. "I decided to be a teacher right before my mission, in George Durrant's missionary prep class," Osguthorpe said. "He talked about all the wonderful things about being a teacher.
He told us, 'Be a teacher! Be a coach!'—you know, with exclamation points. I wrote that down, and I still have it."
After he served a mission in Montreal, Canada, Osguthorpe's chosen course was confirmed while serving as his father's research assistant during a sabbatical in Paris.
"We studied the French educational system together," Osguthorpe said. "I sat in classrooms and took notes for him for fieldwork. We published an article based on our study. That's when I decided I'd like to be in academia."
As a senior, Osguthorpe was taking one last required writing class when he wrote a paper on a teacher's moral impact on students.
"I was trying to teach French [as a student teacher], but I was also interested in the impact I might have on the character of the students. It wasn't clear to me that I was having any impact," he said. "What does that impact look like and how do you do it well? It's not a stretch to say that paper turned into a dissertation, which turned into multiple publications over the course of the last 20 years, which turned into an entire career's worth of scholarship."
Osguthorpe was teaching French at Timpview High School when he met his wife, Gwen, at a BYU men's soccer game. The couple married in early 1999; by fall of that year, they were in Michigan, where Osguthorpe's interests led him to study under Gary Fenstermacher and Virginia Richardson, directors of the Manner in Teaching Project.
Osguthorpe received master's and doctoral degrees at the University of Michigan and then took an assistant professor job at Boise State University. At BSU, he spent nearly 15 years preparing teachers, writing prolifically, and eventually serving as dean of the College of Education. He also gave full rein to his love of river rafting.
"I had a little standing rule in the dean's office in the summertime, after the river was low enough to run," Osguthorpe said. "I would say, 'If it's above 90 degrees, everything after four o'clock is shifted to another time, because I am leaving. The family is going to meet me at Highway 55, we'll have the raft on the river by five, we'll have floated down by seven, and we'll be down at Ray's Corner eating ice cream by 7:30."
But something new was waiting around the bend of the river of Osguthorpe's life: a meeting with McKay School dean Mary Anne Prater, who asked, "Any interest in coming to BYU at some point?"
Osugthorpe said, "Maybe down the road. But we love our community, and we want to finish raising our family [in Idaho]."
He told his wife about Dean Prater's interest. "I said, 'I told her later, maybe, but not right now.' And we both had the sudden inspired realization: 'Oh no!' It was clear in that moment that, if BYU offered us a position, we were going to come to Provo. We weren't sure why that prompting came in such a powerful way, but it came, and we followed it, and here we are."
Osguthorpe appreciates the strength of the McKay School's "three pillars"—undergraduate  teacher education and clinician preparation, graduate education, and research and external funding—built on the foundation of the BYU–Public School Partnership. "I want the McKay School to be a world-renowned and heaven-blessed school of education," he said. "We have to be excellent in those areas to have the reputation we want and to call ourselves world-renowned. And we've got to be good in our partnerships. That is all encapsulated in the mission of this university, 'to assist individuals in their quest for perfection and eternal life.' That's why I came here. That's a profound part of me, not just as a member of the Church but  as someone who, in a lot of ways, grew up in the McKay School.
Notes
Interpretation of Rumi's poetry by Coleman Barks, in Jalāl al-Dīn Rūmī, We Are Three: New Rumi Poems (Athens, Georgia: Maypop Books, 1987), 44.
The Mission of Brigham Young University (4 November 1981).
Written by Stacey Kratz
Photography by Bradley Slade