For Seastrand, a career in education gives him the satisfaction of working with others to change lives
Image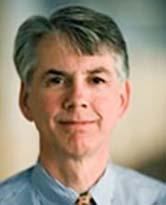 "Growing up in Orem when it was just a farming community with many orchards and lots of space is quite a different experience than it is now," Gary Seastrand stated. After graduating from Orem High, Seastrand served a mission in Argentina and returned to BYU afterwards. In 1976, he graduated with his bachelor's in elementary education. In 1979, he received a master's in education from BYU and a doctorate from the University of Utah in 1992. His wife, Denise, also graduated from Orem High, and they are the parents of five boys.
His father was an administrator for Alpine School District and set the bar very high in regards to public service. Following his father's footsteps, Seastrand serves as assistant superintendent of Educational Services and Schools for Alpine School District. His interests are drawn to processes that enhance student learning and teaching.
"One of the great blessings in working in education is clearly the marvelous friendships and associations that come from people who want to make a difference," Seastrand said. "Educators choose this career because they recognize that through their day-to-day efforts, the world is a better place and the future is guided and shaped. It is a personal pleasure to come to work each day and know that my colleagues are all working hard to change lives."
Sharing his feelings about his experience with the McKay School, he said: "The McKay School of Education has been a great source of knowledge and strength to me in my professional and personal life. The combination of secular and spiritual knowledge has enabled me to view my life's work as a calling from Heaven. The lessons learned at the McKay School of Education have served me well throughout my career. I look at the McKay School of Education as a light on a hill."
Going by his experience gathered from the McKay School and from the years of service in education, Seastrand said, "The most important tool for an educator is one that seems to be innate—that of a positive attitude. When an educator remains positive, there is a greater likelihood that there will be constant learning, a stronger sense of dedication, a healthier commitment to students' learning and development, and a respect and love for others. Give me a faculty and staff with a positive attitude, and we will change the world and have fun doing it."
July 2007