Daniel Hemmert
Executive Director of the Utah Governor's Office of Economic Opportunity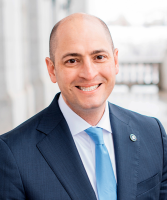 Dan Hemmert serves as the Utah Governor's Office of Economic Opportunity executive director, where he is responsible for implementing Gov. Cox's vision of economic opportunity and prosperity for Utahns.
Hemmert was selected to serve as Go Utah's executive director based on his previous business and legislative experience. He's been a C-level executive at a successful venture-backed startup, a private equity investment professional, and managed a private asset management firm.
At his appointment, Hemmert served in the Utah State Senate, where he was the Senate Majority Whip. He is a strong advocate for Utah and brings his unique perspective and skills to advocate for the state.