Faculty: Bryant Jensen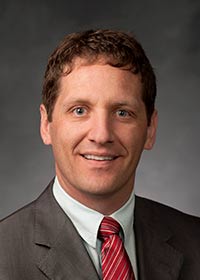 Bryant Jensen
Title
Associate Professor
Department:
EIME, TEd
Contact Information
Office: 206-H MCKB
Phone: 801-422-3241
Email: nope@bryant_jensen@byu.edumsn.com
Dr. Bryant Jensen is an associate professor in the Department of Teacher Education at BYU. He teaches courses in learning theory, multicultural education, research methods, and educational foundations. His research addresses equitable teaching and teacher learning to transform their interactions and lesson activities to enrich learning opportunities for children and youth from minoritized communities. Currently, Bryant is collaborating with public school educators and research colleagues to develop and test material supports—e.g., formative observation systems, team inquiry protocols—for teachers to learn to enact equitable math teaching in rural Mexico, and to sustain equitable classroom discussions for Native Islander children in Hawai'i and Latinx children from immigrants families in Utah. These materials are free and downloadable as open educational resources (OER).

Previously Bryant was a research associate for the National Task Force on Early Education for Hispanics, a Fulbright scholar in Mexico, teacher educator in California's San Joaquin Valley, and a postdoc fellow at the University of Oregon. His most recent book, with Dr. Patricia Gandara at UCLA, is The Students We Share: Preparing Mexican and US Teachers for Our Transnational Future (SUNY Press, 2021). His research articles appear in Anthropology & Education Quarterly, Early Childhood Research Quarterly, Educational Assessment, Educational Researcher, The Elementary School Journal, Reading Research Quarterly, Theory Into Practice, and others. Bryant serves on the editorial board of five research journals, and his work has been funded by the U.S. Dept. of Education, Fulbright, the Mexican government, BYU, and a handful of foundations. Bryant is a first-generation college graduate and with his superhuman spouse, Taryn, is raising five spirited children in Provo.
Multicultural Education; Learning Theory; Quantitative Research Methods; Design-Based Research; Equitable Teaching; Educational Foundations
Teacher Learning; Equitable Teaching; Sociocultural Interactions; Moral Work of Teaching; Teacher Collaboration; School Change; Mexican/Central American Schooling; Language/Literacy; Latina/o Education; Migration and Education
Fulbright Specialist
U.S. Dept. of State
2021 - 2025
Nancy Peery Marriott Excellence in Scholarship Award
BYU McKay School of Education
2021 - 2022
Visiting Scholar
Center for Research on Education, Diversity & Excellence (CREDE), University of Hawai'i at Mānoa
2021
Early Career Grantee, National Academy of Education
National Academy of Education
2013 - 2014
Fulbright-Garcia Robles Fellow
Fulbright
2007 - 2008