Faculty: Jason McDonald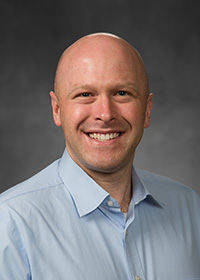 Jason McDonald
Title
Teaching Professor
Department:
IPT
Contact Information
Office: 150-E MCKB
Phone: 801-422-3674
Email: nope@jason@byu.edumsn.com
Website: jkmcdonald.com
I am a native of Provo, UT. Currently I live with my wife and youngest son in Spanish Fork, UT. Professionally, before coming to teach at BYU I worked in the instructional media industry, most recently as the director of digital products for the Deseret Book Company and a media portfolio director for the LDS Church.
I have taught both graduate and undergraduate university students. I have also taught in industry settings, both corporate and non-profit. Topics I have taught include:

• Instructional design processes
• Integrating technology in the classroom
• Product management
• Project management
• The history of instructional design
• Instructional simulations
• Human-computer interactions, user interface design, and usability practices
• Using stories and film for culture change
• Theories of learning
• Theories of design
It's easy to think that the hardest part of education is coming up with good strategies, methods, and techniques. But in truth, we actually know a lot about these technical aspects of education. Yet despite what we know we still find a lot of education is dull, uninspiring, rigid, or inflexible. Sometimes this is because we implement a method poorly. Sometimes there's a mismatch between what we're trying and the needs of a situation. But sometimes, on the face of it all the right "ingredients" look to be in place, but what we do still just doesn't turn out quite the way we imagine--even when we follow the supposedly right processes for creating our educational systems and instruction, whether that be systematic design, design thinking, or whatever other name it goes by. Learning isn't a product like other consumer products, but often we try to plan, organize it, or design it as if it was. And this misunderstanding is the root of many of our current educational difficulties.

In my current research I explore why and how this occurs, along with what we can do about it. I particularly focus on studying these issues in the areas of online learning and educational technology. Here, we find the challenges appearing in concentrated form that allows for the development of "paradigmatic cases" of obstacles and possible responses. But even though online and technology-enhanced education might allow us to see what's going on more clearly, the same issues usually apply to education more broadly. So, my work also has implications for educators in other settings. My goal is to champion an ethos of educational design that avoids the tendency to flatten/redefine all issues in terms of problems that can be solved through the implementation of the right process or product, and focuses instead on approaches that sensitively respond to educational situations as we actually encounter them unfolding.
Nancy Peery Marriott Excellence in Mentoring
David O. McKay School of Education, Brigham Young University
2022
Research and Theory Division, Theory Spotlight Competition (2nd place)
Association for Educational Communications and Technology
2021
Design and Technology SIG Design & Technology Outstanding Design Case Award
American Educational Research Association
2020
Best Zone Paper
American Society for Engineering Education
2008