Faculty: Macleans A. Geo-JaJa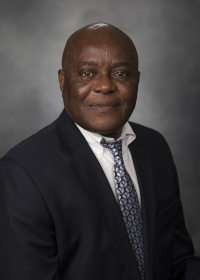 Macleans A. Geo-JaJa
Title
Professor
Department:
EdLF
Contact Information
Office: 306-P MCKB
Phone: 801-422-6072
Email: nope@geo-jaja@byu.edumsn.com
Macleans A. Geo-JaJa is Professor of Economics and Education at Brigham Young University, where he directs the Research Program in Rights in Education, Capabilities Deprivation, and Right to Development. He is currently a Fulbright Senior Specialist Fellow and a Visiting Research Professor at Zhejiang Normal University, China. He has served as a Carnegie Foundation Fellow for two terms. He is a member of the Advisory Council of the Nigerian Think Tank. He serves on numerous journal editorial boards, including the editorial consulting board of International Review of Education a UNESCO journal. Professor Geo-JaJa is author or co-author of significant tier one journal articles and numerous book chapters He has either authored or co-author numerous articles and book chapters in Education, Poverty, Politics of Education Reforms and Globalization, and Development in sub-Saharan Africa. He has also co-authored four published books in economics, education, and development.
I teach the economics of education, coloniality/modernity in development, capabilities deprivation, and human right in education and development. I also teach courses in human rights in education and comparative international development education.
Research and program work is in rights in education in a number of countries. Human rights in development aid and Education and Globalization. The twinning of rights in education with development to unmask Africa from the shackles of imperialism. My work critically relates culture and right-capability as an anti-development genocide approach. The current niche in research is on rights in education for Africanization ofn development.
Fulbright Senior Specialist Award
United States Department and IIE
2012 - 2017
Carnegie African Diaspora Fellowship
The Institute of International Education (IIE)
2015