Read Time: 5 minutes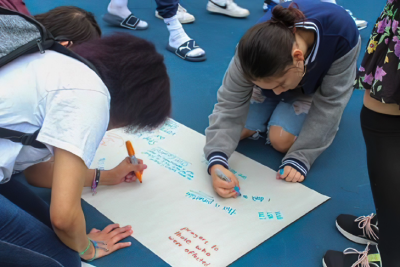 Janell Cinquini, '98, was reading through the fall 2021 issue of McKay School magazine when she saw the story that would put her students' advocacy efforts into over­drive. The article by educational leadership and founda­tions professor Spencer Weiler was a summary of his decade of research relating to guns in schools.
"We do research because it's part of our jobs, but most of us have higher ambitions," says Weiler. In that same 2021 article, titled "Will Arming School District Employees Keep Schools Safe?" he wrote, "My aim in researching this topic is to collect data that can influence policymakers and practitioners considering adopting a potentially controversial safety measure."
That influence has extended to some of Cinquini's students, and it may now help bring about data-driven solutions to local and state challenges related to gun violence.
"Sometimes something special happens," says Weiler now. "This is a story of how student activists in Oregon, with guidance from their advisor, connected with research from Brigham Young University to build school safety."
Cinquini, a social studies teacher at Lakeridge High School in Lake Oswego, Oregon, showed the article to members of Lakeridge Students Demand Action (LSDA), a student group she advises. Club leaders Peren Tiemann and Flynn Williams saw the potential of using Weiler's research to advocate for solutions-based change.
For years, Weiler and fellow researchers have conducted inter­views, analyzed policy statements, and examined funding data to capture the nuances associated with arming school district employees. Members of LSDA, which is affiliated with the national group Students Demand Action, saw the strength of Weiler's research and decided to use it to help meet their goals of giving high school students a voice in the policy-making process and help them inform the larger community on issues of school safety and gun violence. In a May 26, 2022, article in Rolling Stone, Williams, a senior who graduated this year, said, "We hoped to tell legislators in Oregon and across the country that gun violence is an issue that needs to be addressed now" (EJ Dickson, "'Enough Is Enough': Students Demand Action on Gun Violence Epidemic"; emphasis in original).
LSDA members contacted Weiler about their goals, and Weiler attended a club meeting via Zoom to talk directly with Lakeridge students about his research. The appearance was part of a larger effort by LSDA members to become more informed on research on guns in schools, strengthening their advocacy as they work to increase school safety.
On the state level, their efforts have focused on changing state statutes, circulat­ing educational information, and encourag­ing others in the form of campaign actions, walkouts, and spirit events. Locally, the club has worked with administrators to cre­ate trauma-informed active shooter drills, ensure parents have accurate information on proper gun storage, and enact bans on concealed weapons at their high schools.
"The club has grown into a safer learn­ing community for future students," Weiler says. "These student activists are bringing about change."
LSDA members intend to carry what they've learned in the club beyond high school, says Tiemann: "I have grown up as part of the lockdown generation, con­stantly looking for exits in every class­room and expecting any loud noise to be a gunshot."
Their advisor admires her students' passion, as well as their commitment to using empirical data to make new poli­cies more effective. "Students deserve a school experience devoid of fear, and they are working to bring about this change," Cinquini says.
In school, at university, or in their future lives, these young activists will continue to connect with national orga­nizations, focus on attainable goals, and use the work of researchers to guide their advocacy, Weiler said. "These students really believe that, as Gandhi put it, they can be the change they wish to see in the world."
Photo courtesy of Pamplin Media Group