Read Time: 4 minutes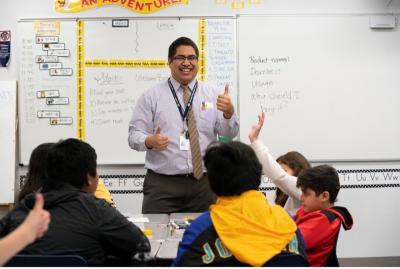 As shortages of qualified teachers continue, BYU's McKay School of Education is working hard to fill that need—and their efforts have received the highest possible endorsement from the leading national accreditation body for educator preparation programs (EPP).
The Council for the Accreditation of Educator Preparation (CAEP) recognizes the need to improve the future of teaching, particularly at this challenging time. CAEP evaluates EPPs based on data-driven, nationally respected standards—and BYU's EPP recently earned not only full accreditation from CAEP, but also received CAEP's Frank Murray Leadership Recognition for Continuous Improvement award. This award, given to only a few programs, marks BYU as one of the nation's top universities for leadership and commitment to continuous improvement.
CAEP's goal is to ensure educational programs are preparing students for the challenging responsibilities they will face as educators in America's classrooms. "CAEP Accreditation is a sign of commitment to quality through purposeful use of evidence," says Yuhang Rong, chair of the CAEP Board of Directors. "The Murray Leadership Recognition recipients should be proud of their accomplishments."
The Murray award is named after the founding President of TEAC, who was also an initial member of the CAEP Board of Directors, and it goes to programs that receive accreditation with no stipulations or areas for improvement, according to the CAEP website. "Providers selected for recognition advance equity and excellence in educator preparation through purposeful use of self-study procedures and evidence-based reporting that assure quality and support continuous improvement to strengthen P–12 learning," the website reads.
"These education preparation providers (EPPs) have a mission driving their continuous improvement inquiry, use assessments that are relevant to the topic being informed and consequential, show the reliability and validity of the evidence provided for accreditation, have quality assurance capacities that inform their knowledge and address questions about relationships in the data."
Christopher A. Koch, president of CAEP, affirms that BYU's efforts will benefit hundreds of thousands of students. "Brigham Young University [is] producing new teachers based on evidence of what makes a difference in K–12 students' lives."
BYU's Educator Preparation Program, which consists of 26 majors, 23 minors, and two advanced programs spread across seven colleges, also works closely with several school districts to bring higher quality of teaching to students in Utah and around the nation.  
"Learning for us, is life giving—it's why McKay School students commit to serving in challenging and noble professions," the McKay School Core Message reads, "and why McKay School faculty dedicate themselves to being leading scholars, outstanding teachers, and role models of living the gospel."
The solution to America's education crisis will not come overnight, but change is possible through the efforts of organizations like CAEP, which works to hold education programs to the highest standards possible, and of excellent EPPs like those at the McKay School.
"We are very proud of our students and faculty and the work they do, day in and day out," says Brent Chowen, director of BYU's Educator Preparation Program. "This recognition shows that we are among the top educator preparation providers in the nation. Not only have we sought out CAEP accreditation, the gold standard for educator preparation, this recognition provides validation that our students and their families are investing in an education program that is second to none."
Writer: Alysha Rummler
Photography: BYU Photo
Contact: Michael Leonard