Read time: 2 minutes
Image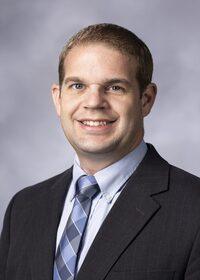 The work of Communication Disorders professor Dallin Bailey is improving the quality of life for individuals with aphasia, a language disorder that affects a person's ability to communicate.
Bailey's research is supported through the Interdisciplinary Research (IDR) Origination Award. Along with David Wingate of the Computer Science Department and Derek Hansen of the Computer Engineering Department, Bailey received a $60,000 grant per year for two years to create a program that would build communication skills in individuals with aphasia.
Bailey's approach differs significantly from previous efforts: the collaboration across disciplines and the utilization of AI. "It's not really being used very much yet," Bailey says.
Before AI, many tools to help people with aphasia involved writing, and computer programs or apps consisted of graphs or charts of words that a person could search for. In contrast, Bailey's project uses AI to listen to a speaker and suggest words that the person is trying to say.
Part of the challenge lies in the variety of uses the program needs to fulfill.
"People with aphasia are not all the same," Bailey says. "Their language output can really vary from person to person."
Bailey says the program has wide potential and gets excited thinking about "ways that the tool could be developed in the future and the different ways of applying it to help people now."
While the difficulties faced by people with aphasia are many, Bailey hopes that his research will make their lives better.
"We're not going to solve all those problems with this tool, but if we can chip away at it and help a little bit, I'll feel like I'm accomplishing something," he says.
Writer: Bridget Quain
Contact: Andrew Devey