As far as holidays go, Christmas is my favorite. I enjoy Thanksgiving, the Fourth of July, and the other holidays, but the magic of the Christmas season is unmatched. An early morning run through freshly fallen snow. Hot chocolate and delicious baked goods. A late-night drive to see colorful lights and other festive decorations. The faint aroma of pine in my house from a freshly cut tree. And of course, music. These are all traditions that make Christmastime special.
I have two Christmas traditions that add to the magic in especially meaningful ways—neither of which have anything to do with running or fishing! One is the 12 Days of Christmas activity that I do with my family. We identify a family in need in our ward and give the family a gift every day for 12 days leading up to Christmas Eve. My sons delight in leaving the gift on the family's porch, ringing the bell, and running away as if their lives depend on it! But even more, they recognize that they are helping a family that is less temporally blessed than us. My family can feel the Savior's love as they serve Him by serving a family in need.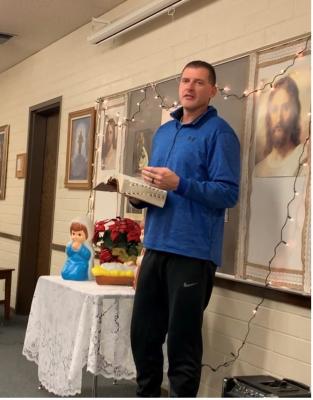 The second tradition is reading Luke Chapter 2. My grandmother organizes a rather grand Christmas party, with some 75 of my extended family (and even Santa) in attendance. We sing Christmas hymns and show off our musical and other talents. My contribution is the reading of Luke 2. What makes this special is that I read from my grandpa's personal scriptures. Since his passing, it has fallen to me, his oldest grandchild, to read to the family. Each year before the party, I take a few minutes to thumb through my grandpa's scriptures, a beloved family heirloom. As I sit alone, remembering my grandpa and looking through his scriptures, I can feel the Savior's love for me and for everyone.
During this Christmas season, let us not forget that our inspiration is Jesus Christ, the Master Teacher.  He taught us to serve others. He taught us to love others. He taught us to nurture the full potential in others. Said He, "Come unto me, all ye that labor and are heavy laden, and I will give you rest. . . . For I am meek and lowly in heart: and ye shall find rest unto your souls. For my yoke is easy, and my burden is light" (Matthew 11: 28–30). My hope for this Christmas season is that we will remember that our Savior Jesus Christ is the gift. As we come to Him, He will make our burdens light. May we all feel of His love and do our part to spread His "good tidings of great joy" and love during this Christmas season.
Photo courtesy of Steve Christensen