Read time: 1 minute
Image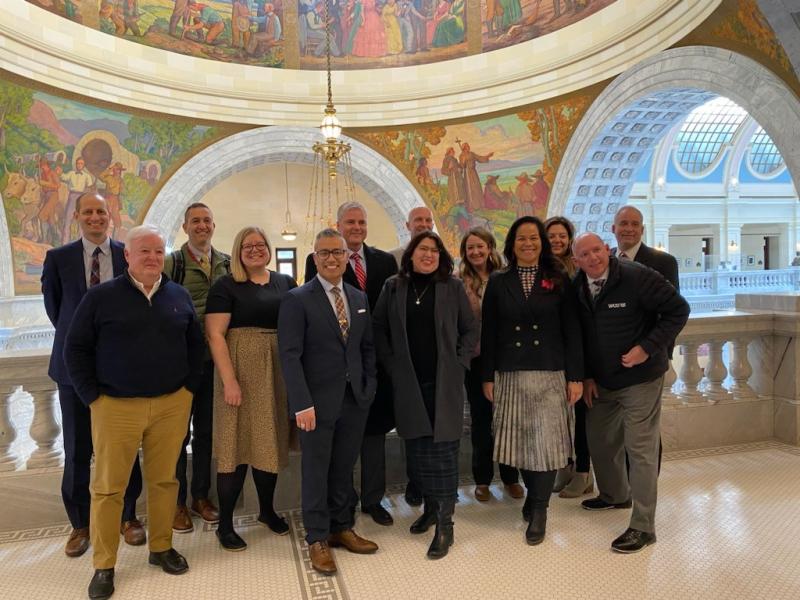 For McKay School students working toward their educational doctorate, a recent visit to Utah's legislature during its 2023 general session was a crucial learning experience.  
This winter semester, EdLF professor Bryan Bowles jumped at the opportunity to take his educational doctorate students to witness government in action. It is crucial for doctoral students to understand how policy is made, as it will directly affect their work in schools. Students learned firsthand how policies are formed, met with legislators, and forged valuable connections with each other.
Students started the morning in an education appropriations meeting, followed by attending the House Floor. Doctorate student Heather Bolli led the legislature in the Pledge of Allegiance. From there, students had the chance to talk with senators, including Representatives Joel Briscoe and Ann Milner.
The dynamic, ever-shifting nature of the legislative process was exciting to students, Bowles says: "You really don't know until you go there and see what happens." For many students, this class and trip was their first chance to see lawmaking in action. In class, each student followed the life of a bill. Visiting the state capitol allowed them to see the process that they had studied in the classroom.
Trips like this one encourage conversations between educators and legislators, which can lead to positive changes in educational policy. Bowles hopes that the visit helps students to know that "we each have a voice" and inspires them to become more involved in the legislative process.
Writer: Bridget Quain
Contact: Andrew Devey