Read time: 2 minutes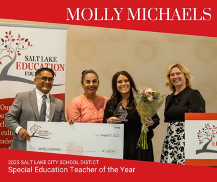 Molly Michaels was named the 2023 Special Education (SPED) Teacher of the Year for the Salt Lake City School District while completing her first year in the School Psychology program at BYU. Although this veteran teacher has nine years in the classroom under her belt, Michaels' time at BYU has strengthened her practice in countless ways. 
"There's an emphasis on really embracing the diversity among the student population you're working with," Michaels says. "Being really open minded, being really flexible in your thinking, understanding that the lens through which you view the world may not be their lens, and that's OK." 
Michaels appreciates the focus BYU brings to honoring students and their individual gifts. She feels that one of the most important things when teaching is to create a strong bond with both students and the larger community.  
Beyond this, Michaels advises new teachers to "focus on things you can control; let go of what you can't." 
Teachers have so many things pulling them in different directions. It can be overwhelming trying to accomplish everything that needs to be done. That's why Michaels reminds teachers to treat themselves with kindness. 
"At the end of the day, as long as you're focusing on loving your students and really trying to give them what they need, it's going to be OK," Michaels says. 
Michaels says she prioritizes individual time with each student: "I try to make sure I have moments where I can spend some one-on-one time with a student, even if it's just when they come in by saying their name and looking at them and saying hi." 
This ability to see each child individually is crucial to Michaels' success. She values each child's happiness, so she wants her classroom to be a place where they can be their authentic selves and feel accepted.  
At the end of each year, Michaels likes to look back and see the progress she and her students have made, but she also looks to the future. 
"I just look forward to gaining the skills I need to be able to give [my students] more support," Michaels says.