Q. Where are you from?
Image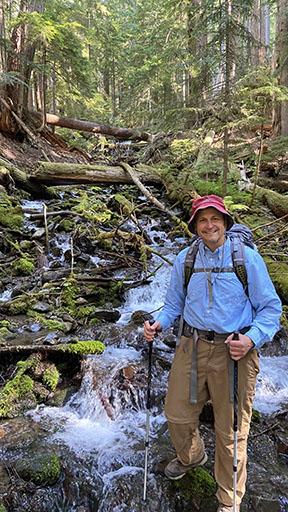 He grew up in Santa Monica, CA, but currently lives in Springfield, UT.
Q. Where have you previously studied?
He transferred from Santa Monica College to BYU for his undergraduate and masters. Patten received his doctorate from the University of Utah.
Q. Where have you previously worked?
Patten started as a junior high art teacher for the Alpine School District, then as an assistant principal, elementary school principal, supervisor principal, assistant principal, and now as director for CITES department at BYU.
Q. What accomplishment are you most proud of?
Learning and growing in my family roles as a son, brother, uncle, husband, father and grandfather. According to Patten, "Thats where [his] real joy is."
Q. What was the first career you dreamed of having as a kid?
A marine biologist or an architect. 
Q. What is your favorite summer activity?
Backpacking—he just returned from a four-day trip backpacking through Olympic National Park in Washington. While there, he slept in a tent he sewed himself and covered 45 miles.
Q. What's the most exciting thing you'll do the rest of the year?
Patten plans to take the family to Orlando to visit Universal Studios.
Q. What would you rate a 10/10?
His wife!
Q. Where can we find you most Saturday mornings?
An early morning run along the streets of Springfield.
Q. What is your favorite place to visit?
Paris—his wife studied French and was a French teacher. They had a goal to take each of their five kids to Paris, which they have recently completed.
Q. What is one thing you can't live without?
Music from the 70's and 80's and chocolate chip cookie dough ice cream.