Read Time: 1.5 minutes
For the Benefit of the World
At the BYU McKay School of Education, our inspiration is Jesus Christ, the Master Teacher. We educate for eternity, knowing that every person is a child of God with a divine nature and destiny.
Learning, for us, is life-giving—it's why McKay School students commit to serving in challenging and noble professions and why McKay School faculty dedicate themselves to being leading scholars, outstanding teachers, and role models of living the gospel.
As faculty, staff, and administrators, we devote our minds and spirits to our work so we can nurture the full potential in others—for the benefit of the world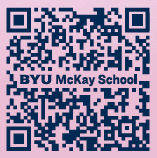 You are an essential part of this vision. We invite you to join us in engaging in work and service that is for the benefit of the world—you may be doing this work already! Please add your good works to education.byu.edu/deans/for-the-world. Then watch this visual grow in scope and impact as we all unite in this life-giving effort.