Read time: 2 minutes
Image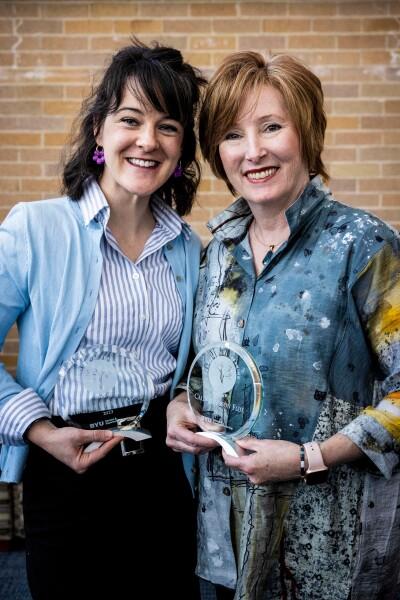 Heather Francis and Cally Flox of the McKay School were selected recipients of BYU's 2023 Experiential Learning Award. Flox, director of the BYU ARTS Partnership, and Francis, the partnership's research and design coordinator, work as part of the Center for the Improvement of Teacher Education and Schooling (CITES). The partnership's vision is "to increase the quality and quantity of arts education in schools," according to Francis. 
Flox and Francis share a strong bond that was first formed many years ago when Flox mentored Francis. The pair say they have always collaborated well together. When reflecting on the good work they accomplish, Francis remarked, "Of course we do. I started as one of [her] students." 
Francis continues: "My favorite part was that it wasn't just me getting the award." 
Together, Flox and Francis help teachers and students more effectively advocate for the arts and use the arts in their teaching and leadership practice. They feel blessed to work with many wonderful students and staff members throughout their time as colleagues. They do their best encouraging students to meet challenges head-on as they grow into effective educators and leaders. 
"The most rewarding thing for me is the surprises of what they bring when they're given freedom and support," says Flox. 
These tight-knit friends love serving the BYU community through the arts. Their most recent project is an online course for teachers, Amplifying Native Voices in the Classroom. This course guides educators on how to respectfully incorporate elements of Native American cultures into their teaching. 
"I feel privileged to work with them," Flox says. "The students that we've worked with in the McKay School of Education are extraordinary." 
Writer: Bridget Quain 
Contact: Andrew Devey