The Power of the Message
Most of us witnessed the special meeting with President Cordon and Sister Craig of the Young Women General Presidency when they spoke to the McKay School in September. It was an extraordinary opportunity for our students (and us) to hear words from general church officers who are alumni of the McKay School.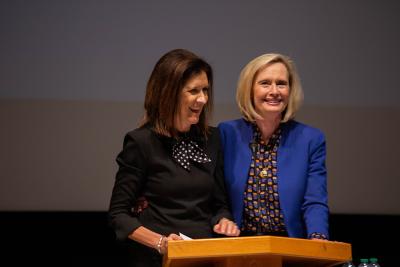 The world map they incrementally populated with their travels was a powerful example of the influence these two wonderful sisters are having in their callings—callings they did not remotely expect when they were sitting in McKay School classrooms years ago. I wonder how many students stopped to ponder when President Cordon noted, "this could be you!"
We invited President Cordon and Sister Craig to use the new McKay School core message as the basis for their talks. The spirit and power of the core message came through as they touched on various concepts. While we hope all students received and understood the message, I know of at least one who was particularly touched. With her permission, these were her comments (note the core message concept she quotes, in bold).
"I truly felt the Savior's love through President Cordon and Sister Craig. The way they answered questions at the Q&A and interacted with students was so touching and powerful. I could feel the power of the sacred mantle that they hold in their leadership positions in the Church. They were both so loving, and it was fun to see personable leaders. Some takeaways I had from their talks are that I was not sent here to fail. I am preparing to nurture the full potential of others. Being in tune with the Spirit will help me to be in tune with the needs of my future students. Teaching is a sacred and divine role, and I need to incorporate the Spirit in fulfilling that role. It was such an incredible opportunity to sit with these wonderful leaders at lunch, and I thank you again so much for arranging it. I won't forget this experience." (Millie Boyle, ElEd Major)
What a great example of intentionality and purpose! She had not been given a copy of the message, nor was she briefed ahead of the talks. This is the power of the message, even concepts within the message, that can have far-reaching impact. I hope we will all remember the McKay School core message and communicate its concepts whenever we have the opportunity—For the Benefit of the World!
By Michael Leonard, Assistant Dean, External Relations