September 2022 Employee Spotlight: Nichole Chaffee
Q. Where are you from?
A. Well, I was born in Ann Arbor, Michigan, came out here for school at BYU, moved back to Michigan, then moved to North Carolina, then Florida, and then Virginia. So, I came here from Midlothian, Virginia.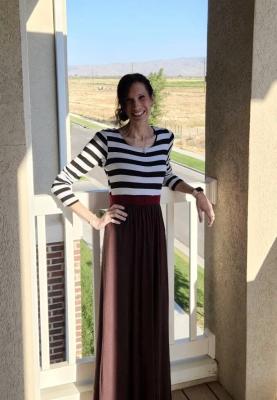 Q. What and where have you studied?
A. I studied psychology here at BYU. I then studied education (secondary and elementary) at Eastern Michigan University where I got my post-baccalaureate teaching certificate. I also got a master's degree in reading from Grand Canyon University.
Q. Where have you previously worked?
A. I taught fifth grade in Sanford, North Carolina and Tampa, Florida. I taughtfourth and fifth grade in Richmond, Virginia.
Q. Why did you choose to work at BYU?
A. I feel like I am the lucky one in that I was chosen to work at BYU. I love teaching, education, and everything that goes along with it. The opportunity to help, support, and encourage future teachers presented itself and I felt like the time was right to make a difference in another way.
Q. What is your favorite thing about the McKay School?
A. So far, the people. I love the positivity, energy, and excitement about education that is in the air.
Q. What do you regret not starting or doing when you were younger?
A. Learning to play the piano.  
Q. What was the first career you dreamed of having as a kid?
A.  I really dreamed about being a pop star (this was during the boy band and Britney Spears era).
Q. What's the most exciting thing you'll do in 2022?
A. Move across the country.
Q. What are you most likely to become famous for?
A. Bringing baked goods randomly.
Q. Do you collect anything?
A. Moving as often as I have has helped me to not collect things.
Q. If you could only eat one type of food for the rest of your life, what would it be?
A. I love the scriptures and they are food for my soul. They are my spiritual nourishment, so I have to say the scriptures.
Q. Where could we find you on most Saturday mornings?
A. Out on a walk with my puppy, listening to a podcast.
Q. Where is your favorite place to go on vacation?
A. It wasn't a vacation, but I spent a summer working at an orphanage and teaching English in Morocco. I would love to do my whole trip from England to France to Spain and to Morocco again.
Q. Would you rather spend a night out on the town or stay home inside with a book?
A. Depends on the town, who I am with, and the temperature outside.