Image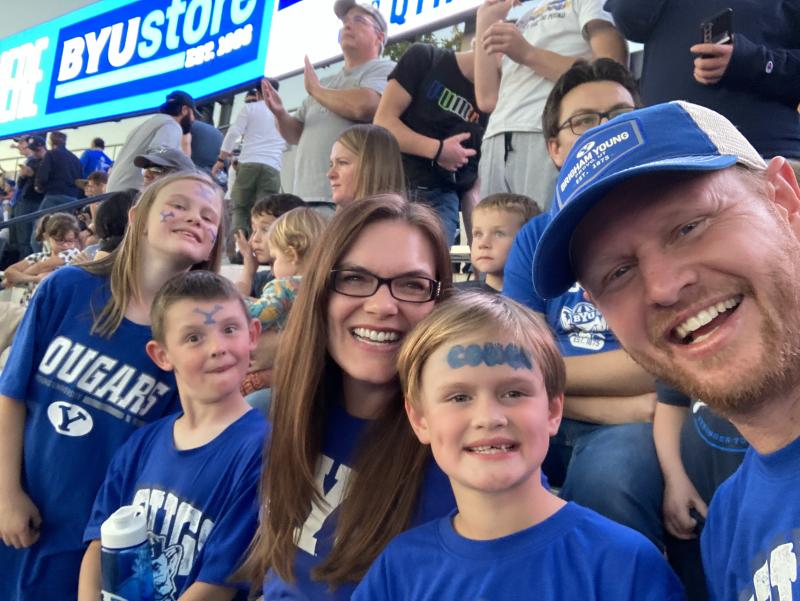 1. Where are you from? 
I grew up in Midway and Salt Lake and we're raising our family in Mapleton. 

 
2. What and where have you studied?  
I graduated from BYU with a degree in English and minors in editing and print journalism.

 

3. Where have you previously worked?  
I was an editor for LDS Living, Intrepid PR firm, and worked with University Communications. 

 
4. What is your current job title? Please describe what you do in that position.  
I am the dissertations and theses editor for master's and doctoral candidates here at the McKay School. I get to read everything these students are working on and it is amazing.  
5. Why did you choose to work at BYU?  
THE STUDENTS!!! I have known the best, most fun, full-of-light students and definitely wanted to be back here with them. 

 
6. What accomplishment are you most proud of?  
We grew green pumpkins this year. 
 

7. What do you regret not starting or doing when you were younger?  
I have been drawing floorplans since I was eight. I've designed tons of houses for fun and I'm really good at it. I think of things others don't think of and can make existing plans even better. But I was scared to go to the U and study architecture because I didn't think I could make the front of the house look pretty—I'm not an artist. Now I can draw elevations that are beautiful. I could have learned earlier and I should have tried. 
 

8. Best Halloween costume you have had?  
We have a 13-year streak of fantastic family costumes. My favorites were Teen Beach Movie (my little girl was obsessed) and Wreck-it Ralph. 
 

9. Do you collect anything?  
Coats, latte cereal bowls (so many colors!!), paint samples. 
 

10. If you could only eat one type of food for the rest of your life, what would it be?  
Tacos 
 

11. What weird food combinations do you really enjoy?  
Green peas (from frozen! Never canned.) with apple cider vinegar.  
 

12. Where could we find you on most Saturday mornings?  
Helping my kids change their sheets and clean the bathrooms. 
 

13. Would you rather spend a night out on the town or stay home inside with a book?  
Book! Or a Hallmark movie. I have a list with annotations and analyses if you need recommendations. 
 

14. Your house is on fire, you have 3 minutes to grab 3 things. What are they?  
My skis, my cello, and my bike. 
 

15. What is one thing you can't live without?  
Magnesium 
 

16. What movie quotes do you use on a regular basis?  
When I did something my kiddos needed but they aren't happy with how I did it, "Rabbit, I did what you asked!" When my kids need help understanding why people, or they, are acting in a negative way, I sing, "People make bad choices when they're mad or scared or stressed, but THROW A LITTLE LOVE THEIR WAAAAAAAYYYY, and you'll bring out the best! True love brings out the best!" When we're out of something, "Why is the rum always gone?" and when we're working toward something, the song "Someday" from 

Zombies.