Alyssa Dixon was once one of the most enthusiastic attendees at the annual ARTS EXPRESS Summer Conference for elementary educators.
"It was always my favorite conference to attend," Dixon says—and now, she is the conference chair to oversee the impressive two-day event, which takes an entire year to plan.  
The BYU ARTS Partnership hosted ARTS EXPRESS June 6-7, with a focus on helping teachers incorporate the arts—music, dance, visual art and theater—into their classroom. After a consistent run of almost two decades, the conference has become an event many look forward to every year, thanks to keynote speakers, a multitude of breakout sessions, and most importantly, a chance to replenish creativity and inspiration.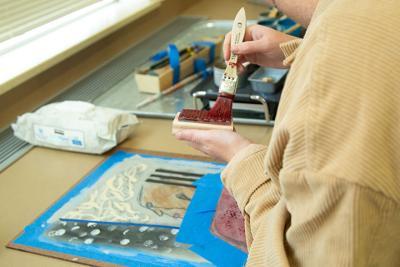 "We know that teachers need to learn basic skills and be inspired as artists before they can teach it to kids." says Cally Flox, the BYU ARTS Partnership founding director.  
Flox emphasized the importance of the arts for all children at all ability levels and backgrounds. "The arts teach problem
 solving, critical analysis, communication, collaboration, empathy and other essential life skills."  
The arts can be found throughout the history of the world in every civilization. They have provided cultures with necessary skills such as relationship building and community.  
"Each art form is a language providing nuanced understanding and expression of the human experience," Flox says. "The quest for beauty inspires hope and innovation which drives human development."
The conference fueled inspiration with classes ranging from using comics to teach science to integrating dance and literature. Every breakout session was a hands-on experience, an important aspect of achieving the conference's goal: having teachers apply what they would later use in the classroom—to "serve with depth."
During ARTS EXPRESS, teachers danced, acted, painted, and learned to play new instruments.
"We can help teachers integrate arts in the classroom to improve student learning and school culture and infuse joy every day," Flox says. "No matter what they teach, they can take something transformative back to the classroom." 
Every teacher who attended walked away with a renewed ability to incorporate the arts into their teaching, implement new ideas, and more fully access the "great equalizer" that is the arts, Flox says: "The arts level the playing field because they are intrinsically part of the human experience and catalyze learning and development."
Writer: Bridget Quain  
Contact: Andrew Devey