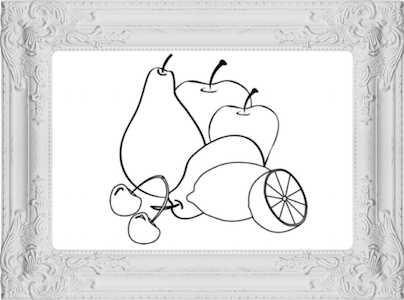 Objective
Recognize and produce the /f/ sound in a series of words that all begin with /f/.
Lesson Plan
Target Words:
frame
funny
fit
fruit
feather
foot
Materials:
Large frame (whiteboard with a frame drawn on it)
Ff graphic
Picture cards
State and Model the Objective
Tell the children that they will fill a funny frame as they listen for things that start with the /f/ sound, such as fit, fruit, fairy, and foot.
Literacy Activities
Filling a funny frame
Choose a child to tape or glue the Ff page inside the funny frame, explaining that the letter F makes the /f/ sound, and have the children make the /f/ sound with you.
Go through the stack of picture cards with the children, inviting them to emphasize the /f/ sound and identify each picture by saying, "/f/ /f/ /f/ ___ (e.g., fish)."
Have the children choose one of the picture cards to stick in the funny frame.
Say together, "A ___ (e.g., fish) fits in our funny frame."
Repeat with the rest of the picture cards or until the funny frame is full.
More Practice
Recognize and produce the target sound
Have the children tell you all of the things they put in the funny frame as you write them on a whiteboard or chart paper.
Use the words from the list to say in the sentence, "We fit a ___ (e.g., frog) in the funny frame."
Say the sentence with the children and have them touch a finger to their forehead every time they hear a word that begins with the /f/ sound.
Read More

http://education.byu.edu/seel/library/
69459
Funny Frame