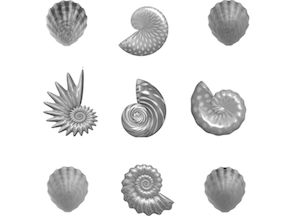 Objective
Recognize and produce the /sh/ sound in a series of words that all begin with /sh/.
Lesson Plan
Materials:
Real (or paper) seashells
A bedsheet
State and Model the Objective
Tell the children that they will learn about Shirley, who shares shells on the shore, as they listen for words that start with the /sh/ sound, such as shore, shell, share, and sheet.

Literacy Activities
Gather shells on the shore
Lay a sheet on the floor and put the real (or paper) shells on the sheet.
Teach the children the tongue twister, "Shirley shares shells on the shore," and point out that Shirley, shares, shells, and shore all start with the /sh/ sound.
Have the children say the tongue twister together slowly as they pick up shells from the sheet.
Challenge them to say it a little faster as they share their shells with each other.
More Practice
Repeat words with the target sound
Write the words that start with /sh/ from the "Shirley shares shells on the shore" tongue twister on paper shells.
Read the words aloud, emphasizing the /sh/ sound, and have the children repeat them back.
Help the children think of a few other /sh/ words and write them on paper shells.
Shuffle the shells and read a few of the words together as a tongue twister that the children echo back.
Shuffle and say the /sh/ words as many times as desired.
Read More
SEEL Target Texts
Sally Sells Seashells
Sally sells seashells by the seashore.
Read More

http://education.byu.edu/seel/library/
15437
Shells on the Shore