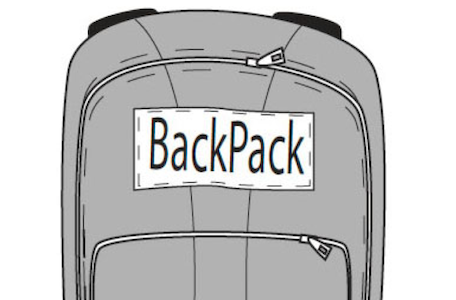 Objective
Recognize words that rhyme with pack (e.g., "Do rack and black rhyme?") and produce rhyme words (e.g., "Think of a word that rhymes with rack.").
Lesson Plan
Target Words:
rack
tack
sack
black
track
snack
Materials:
Black backpack or paper backpack template*
Black marker or crayon (if using backpack template)
Objects that rhyme with rack (e.g., sack, track, jack)
Picture cards*
Train track pictures*
*Items included below.
State and Model the Objective
The children will pack a black backpack and recognize and produce words that rhyme with rack, such as jack, pack, black, snack, and track.
Click here to view a video demonstration similar to this lesson.
Literacy Activities
Pack a black backpack
Place the train track pictures (see below) on the floor to make a track go from one place to another (they do not need to touch).
Show the children a black backpack or the paper backpack (see below) that has been colored black and folded to make a pouch.
Have the children take turns packing the black backpack with the objects or the picture cards (see below) that rhyme with rack.
As each object is put into the black backpack, have the children say, "Pack a ___ (e.g., rack) in the black backpack."
Say -ack along a track
Have the children follow in a line along the train track while making train sounds using -ack (e.g., ack-ack-ack-ack, ack-ack-ack-ack).
Once you get to the end of the track, unpack the backpack and stack each object or picture card on the track.
Ask the children if the object or card rhymes with stack.
Have the children repack the objects in the backpack and follow the track back.
More Practice
Rhyme with pack
Remind the children of the words they played with (e.g., black, pack, track, tack, sack, rack).
Share other words that rhyme with pack (e.g., snack, tack, jack).
Ask each child to think of a word that rhymes with pack (support as needed).
Recognize rhyming words
Invite the children to line up next to the train track.
Ask the children if two words (e.g., pack, back) rhyme.

If the words rhyme, say "pack and back rhyme" and lead the children one step forward.
If the words don't rhyme, have the children stay still and say "black and sing don't rhyme."
Repeat with other rhyme words: (e.g., back, jack; black, sing; track, sack; snack, horse; rack, stack).
Read More
Standards
SEEL lessons align with Common Core Standards. Please see the standards page for the code(s) associated with this lesson.

http://education.byu.edu/seel/library/
14657
Pack a Black Backpack