The SEEL curriculum brings out the strengths of the teacher and the children through activities that are creative, interactive, lively, social—and just plain fun! Children learn as they talk, create, and play. SEEL emphasizes clear expectations for student performance (explicit instruction), incorporates engaging activities, and provides frequent opportunities to practice literacy concepts and skills. Research has shown that engaging activities combined with explicit instruction increase students' learning motivation and memory retention (Culatta & Hall, 2006; Culatta, Reese, & Setzer, 2006).
| | |
| --- | --- |
| | Teachers and students are having success with SEEL. Teacher Dianne Amesse reports on the 100% grade-level literacy rate achieved in her kindergarten classroom using SEEL. This ABC Channel 4 News story aired on 5/27/2009. |
A number of reasons are behind their success.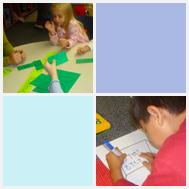 SEEL is based on research showing that "incorporating playfulness along with meaning increases the engagement and memory retention of children" (Justice & Kaderavek, 2004).
Interactive conversations make reading practice natural and meaningful. Teachers do not present or perform—they participate and play.
Social conversations and activities naturally occur in many classroom activities and settings, including those not traditionally used for learning (e.g., transitions and snack time). SEEL focuses conversations to enable practice of new skills without sacrificing the casual friendliness and humor that should be part of these interactions.
When teachers tell students what they are learning and why and then remind them several times during the activity, children benefit, particularly if they are struggling with early literacy skills (Ehri et al., 2001; Elbro & Peterson, 2004).
The SEEL curriculum follows the natural progression of child development (Culatta, Aslett, Fife, & Setzer, 2004; Ukrainetz, Cooney, Dyer, Kysar, & Harris, 2000).