ABILITY BEATS: Moving From Impossible to I'm Possible
Session 1: Grades K-6
Ability Beats is a research based, all-inclusive interactive program that unlocks limitations and empowers participants with the "ability" to achieve healthy and happy lives through a "No Limitations" fitness/wellness approach. Foster creativity through a brain and body workout that integrates kinesthetic awareness, neuromuscular skills, cardiovascular conditioning, flexibility, strength, socialization, and wellness activities. Learn how to adapt drumming activities to varying levels of abilities, thereby accommodating physiological, emotional and cognitive needs that supports each individual's "ABILITIES." Ability Beats is a multi-sensory program that accommodates individual physiological, emotional and cognitive needs to support "abilities" in each person, leading to increased confidence and measurable accomplishment. It encourages experimentation, exploration, socialization, and boosts one's self-esteem while teaching a variety of skills enabling disabled children to be physically and socially active.
Learning Objective 1: Learn how to create an ALL INCLUSIVE – NO PARTICIPANT IS LEFT BEHIND approach towards a healthy and happy lifestyle. Help your students realize what's possible and move from a mindset of "I can't" to "I can"!
Learning Objective 2: Create fun and enjoyment in the class while helping students improve fine and gross motor skills, Improvement of coordination, balance and endurance.
Learning Objective 3: Discover how to provide stress and aggression release, improve concentration, consistency, awareness, and self–control with fewer outbreaks of disruptive behavior.
WELLNESS BEATS: Drums Alive ® The Mind-Body Connection
Session 2: Grades K-6
Drums Alive® Wellness Beats is a research-based, interactive program that introduces inspiring music, powerful rhythms, percussive beats, and expressive movements designed to take you on a creative, physically rewarding, emotionally satisfying, psychologically stimulating brain and body journey to wellness. This innovative symposium is designed to promote increased synchronization between the two hemispheres of the brain leading to the release of neurotransmitters such as serotonin, dopamine and oxytocin that will uplift your mood, relieve stress, and provide increased energy and uplifting benefits to physical, emotional and mental fitness. Learn how to apply this unique, multidisciplinary approach that will unify your mind, body, and spirit while creating balance and harmony for you and for those you teach.
Learning Objective 1: Understand and implement a powerful multifaceted program which combines drumming, rhythm, movement and cognitive applications to promote health, fitness and wellbeing while addressing the National Standards for Physical Education (NASPC), and Depth of Knowledge (DOK) content areas. Discover how Wellness Beats accommodates physiological, psychological, emotional, and social needs that has research based universal application.
Learning Objective 2:Learn fun and engaging, neurologically-based skills and activities that promote executive function, concentration, awareness and mindfulness. Review the research that provides conclusive results regarding exercise being the most powerful tool to effectively enhance brain function.
Learning Objective 3:Experience how to implement new brain and body fitness, education and wellness protocols that will ignite a passion for learning in the classroom, gym, fitness centers, or senior facilities all while promoting health and fitness.
DRUMTASTIC: Fit to Learn, Fit for Life
Session 3: Grades K-6
This innovative cross-curriculum drum and movement program incorporates drumming, music, and movement with core subjects such as math, language, and science to ignite the brain and activate the body. DRUMTASTIC is a fitness and kinesthetic learning experience that brings curriculum, fitness drumming, music and brain health together. Experience a sampling of lesson plans that build a better brain, fight childhood obesity, improve learning and neurological connections all while having FUN!!! Commitment The DRUMTASTIC program provides a fun new approach to physical, social, and cognitive health. It provides children of all abilities and disabilities the means to experience a variety of motor skills in a noncompetitive physical activity, allowing them to recognize the value of physical activity to their overall health.
Learning Objective 1: Experience this powerful multifaceted brain & body program that combines drumming, rhythm, dance and cognitive applications that promotes health, fitness and wellbeing while addressing the National Standards for Physical Education (NASPC), Depth of Knowledge (DOK) content areas, and inclusion strategies. Discover how DRUMTASTIC accommodates individual physiological, emotional, and cognitive needs that is adaptable for all ability levels. Participants will experience a sampling of lesson plans from the DRUMTASTIC curriculum program.
Learning Objective 2:Understand how this unique, fun, exciting cross curriculum program develops physical, cognitive, social, and emotional health by applying evidence based fitness, drumming, music, and educational concepts appropriate for children and preteens. Learn about the Pawtucket School District's experience with the DRUMTASTIC program how they implemented the program and helpful tips on how you can use this program to enhance cross-curricular student learning.
Learning Objective 3:Take home sample lesson plans that enable you to quickly and easily introduce drumming fitness lessons plans to your students and administration so that you can share the fun and benefits of drumming, music, and movement.
Season's Extravaganza – Winter, Spring, Summer, Fall !
Session 4: Grades K-6
Come join Drums Alive and immerse yourself in this fun, exciting, creative and fully participatory music, movement and drumming extravaganza that will take you on a physical, emotional and cognitive journey through the Seasons of the year Get ready to feel the inspiring music, pulsating rhythms and motivating choreographies, combined with a myriad of enjoyable and unique props and tools, that will transport you to those days that awaken the imagination in a special way and allow us to reminisce and feel the anticipatory pleasure of joy and happiness that the seasons bring.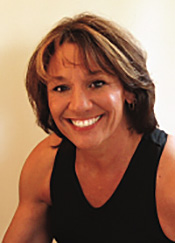 Carrie Ekins
Carrie Ekins is chief executive officer, education coordinator, and owner of Drums Alive Inc. and UG. She also is the founder and creator of Drums Alive ® and co-founder of Academic Beats®.
Carrie has a master's degree in physical education, dance, with emphasis in sports medicine from Brigham Young University and is a doctoral candidate at the University of Chemnitz, Germany. She is an international presenter, trainer, and educator in the fitness and wellness field, who has been awarded the 2012 Program Director of the Year from the IDEA (International Dance Exercise Association) and Best International Presenter 2010 along with recognition for "Most Innovative and Creative Programming" for Drums Alive ® 2010 from the ECA (East Coast Alliance).
Ekins is known for her creative and unique approach to total fitness through incorporating the mind, body, and spirit into an integrated fitness/wellness program. She strives to design one-of-a-kind programs while keeping in the forefront her primary goal of making her programs a "whole mind, whole body" experience for all participants . The unity of mind, body and spirit is essential to her philosophy, the driving force behind her work. Carrie desires that all of her programs meet the needs of diverse audiences and are applicable to any market, whether it be young children,  elderly participants, or individuals with special needs. She believes that the experience and joy of movement and rhythm are the same for everyone; however, the expression of these components may vary according to the population one is teaching. Carrie's extensive teaching experience and background in dance, competitive athletics, and fitness/wellness program development give her the opportunity to create and inspire both instructors and students.
Carrie shares her passion for fitness and education through publishing articles in a variety of trade magazines, including IDEA Today, Shape, Fitness Trainer, Aerobic Fitness Instructor, Fitness Professionals, Sport and Fitness, WellFit, Brigitte, and Augsburg Journal. In addition, she writes manuals for established education companies in the US and Germany.