August 13, 2019
The 2019 Arts Express Conference encourages teachers to integrate global art forms into all school subjects.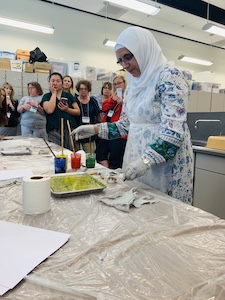 Arts Express is an annual summer conference held by the BYU ARTS Partnership and the David O. McKay School of Education. The conference encourages elementary school teachers to integrate the arts into all school subjects. A teacher may use dance to emphasize different cloud formations or use a theater exercise to prepare students on the autism spectrum for grocery shopping. The possibilities are endless when the arts combine with social studies, science, math, and the English arts to create an inclusive learning environment.
The 2019 conference hosted three keynote speakers—Katie Dawson, Antonio Sacre, and Mickey Rowe—and more than fifty breakout sessions with topics ranging from Japanese Bunraku puppetry to Turkish marble painting. This year's conference focused on creating inclusive environments for those with culturally diverse backgrounds and disabilities as well as helping students express themselves through storytelling and theater.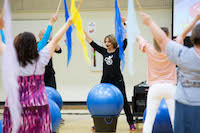 While giving welcoming remarks, Cally Flox, founding director of the BYU ARTS Partnership, shared her hope that each teacher would be able to find an artistic voice. "An artist has a message. An artist has something important and valuable to say. Teaching is an art form." Flox also emphasized that teachers with a strong, artistic voice are better able to help students find unique, creative voices.
Teachers explored artistic voice by actively participating in sessions, dancing like clouds, constructing masks inspired by ancient works, or creating Turkish marble paintings. "I think that is the best way to learn, to get up and actually experience something in practice," said keynote speaker Katie Dawson. "If we are trying to transform the way teachers teach and learn in the arts, we need to be in a place like [Arts Express] where we are actually doing that work, feeling it in our bodies, ideating with each other, and asking critical questions."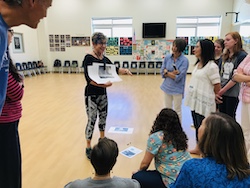 Dawson, an assistant professor at the University of Texas at Austin and the director for Drama for Schools, believes integrating the arts into Common Core lessons allows teachers to engage with students with different learning styles. "Some of us are visual learners, others are kinesthetic. Some folks can hear and take in information. Others need to see it," Dawson explained. "I think the arts give us a multimodal way to use every kind of learning style in a classroom."
During his own keynote speech, Antonio Sacre showed teachers how storytelling connects with aural, verbal, physical, and social learners. Sacre uses his whole body when he tells a story, sprinkling in sound effects, facial expressions, and hand movements to bring his stories to life. This multimodal learning approach impacts students' writing, vocabulary, social interactions, and family connections.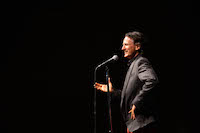 Sacre believes storytelling is a powerful catalyst for learning. "There's a science behind it. The words that you speak help kids learn how to read," said Sacre. "It is part of the human condition. We've been doing it for thousands of years. It's how we originally taught, and it's accessing something that is a crucial part of human development."
Sacre encouraged all attendants to share personal stories with the younger generations to create connections. "Storytelling is a folk art, not a fine art," Sacre said. "I want you to know in your bones that you are storytellers and you are writers. Even if you don't think they are any good, your stories are interesting to other people and they are certainly interesting to your own children."
In another session, actor and keynote speaker Mickey Rowe taught inclusive theater games for students on the autism spectrum. "Arts integration in the classroom is so important, and for people on the autism spectrum, arts integration in the classroom is even more important," said Rowe. "I think theater is one of the best therapies for autism because, in theater, you are studying social interactions."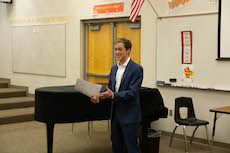 Rowe, the first actor on the autism spectrum to play Christopher Boone in the Tony Award-winning play The Curious Incident of the Dog in the Night-Time and the cofounder of National Disability Theatre, focused his keynote on creating inclusive environments for those with disabilities in the arts and in classrooms.
"In the classroom, when we think about inclusion, we need to think about disability, think about accommodations, and not think of them as a scary thing," said Rowe. "Thinking about accommodations is a creative act that we get to do as teachers on an individual level to help each student succeed."
"I think the arts and storytelling are the only way to really teach empathy and help us see things from someone else's point of view," said Rowe during the closing keynote. "I don't know anything else that teaches empathy the same way that the arts and storytelling do, and I think that's what we need now more than ever in this country."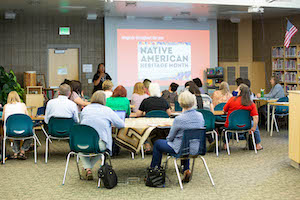 While the 2020 Arts Express is nearly a year away, the BYU ARTS Partnership is still striving to improve student learning in Utah schools through the arts. The partnership recently announced its collaboration with nine Native American tribes on a three-year initiative to create elementary school lesson plans centered on the history and art of the indigenous people of Utah. Brenda Beyal, a Navajo woman working with the ARTS Partnership, convened recently with tribal leaders at Weber State University to discuss the initiative. The completed lessons were featured in two sessions at the conference and can be found on the ARTS Partnership website.
The Arts Express and ARTS Partnership lesson materials are available for free at ARTS Partnership Lessons and Arts Express 2019 schedule.

Writer: Emma Smith
Contact: Cynthia Glad 801-422-1922