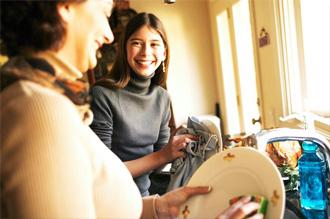 President Gordon B. Hinckley closed the April 2007 general conference by urging, "Parents, treat your children with great kindness."
President Hinckley's focus on kindness is typical of his gentle reminders to us. Years earlier, in his closing remarks of the April 2000 conference he said, "I hope that as fathers and mothers we will strive more fully to rear our children 'in the nurture and admonition of the Lord,' (Eph. 6:4), treating them with respect and love, giving encouragement at every opportunity and subduing our critical remarks."
The best way to teach our children to be kind is to be kind ourselves. There are other ways to help our children learn kindness as well.
Simple, and Close to Home

As you consider ways to focus on kindness with your children, start with those close to you. Do simple, kind things for members of your family: help make a bed, put a loving note in a lunchbox, or smile. Kindness does not need to be grand.
Kindness doesn't need to be unexpected, either. Feel free to plan kindness. Create opportunities for yourself or your family to exercise kindness. Maybe it's time to get out the "pixie jar," where everyone chooses a family member's name for the week and is extra kind to that person.
Or maybe it's time for a planned-in-advance family home evening service project. Planned kindness can be as rewarding as spontaneous kind acts.

"No kind action ever stops with itself. One kind action leads to another. Good example is followed. A single act of kindness throws out roots in all directions, and the roots spring up and make new trees. The greatest work that kindness does to others is that it makes them kind themselves."
   -Amelia Earhart

"I remember the time I broke the 'macaroni and cheese bowl.' It was glass, and the perfect size for making a lot of different meals in, but we used it mostly for mac and cheese. I thought my mom would lose it when she found out. But she was so kind about it. She said, 'That's too bad. I know you didn't mean to.' And then she cleaned up the mess. I've never forgotten that."

More Difficult, and Anywhere

Don't avoid the hard stuff. There is always that one person--someone at work or at church or your new in-law to whom it is hard to be kind. Make that person your special project, your Everest.
As you go through this exercise of kindness you'll have experiences you can use in teaching your children. We parents are pretty good at saying, "Be nice to her!" and it's a good exercise to try that on ourselves.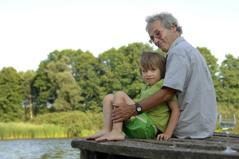 Harold Kushner, the best-selling author of When Bad Things Happen to Good People, said, "When you carry out acts of kindness you get a wonderful feeling inside. It is as though something inside your body responds and says, yes, this is how I ought to feel."
"Constant kindness can accomplish much. As the sun makes ice melt, kindness causes misunderstanding, mistrust and hostility to evaporate." Says Albert Schweitzer
We help our children have that content feeling as we teach them to focus on kindness.
Sources
Hinckley, Gordon B. "A Time of New Beginnings." Ensign. May 2000: 87.
----- "Closing Remarks." Ensign. May 2007:105.
McLaughlin, Mignon, The Second Neurotic's Notebook, 1966.